Enterprises improving IPR strategy
By Dai Yan (China Daily)
Updated: 2004-08-03 10:07

Pfizer's patent on Viagra was overturned by Chinese regulators in early July.

The decision by China's State Intellectual Property Office comes after a group of Chinese drug companies filed a petition in 2001 seeking to nullify Pfizer's patent for sildenafil citrate, Viagra's active ingredient, which failed to fulfill the novelty requirement of Chinese patent law.

Pfizer, one of the world's pharmaceutical giants, said it is appealing the patent office's decision and lashed out at China's protection on intellectual property rights (IPRs).

Putting aside the controversy, experts say they believe the case embodies the improved IPR awareness of local enterprises which have learned to use IPRs as weapons to protect their economic benefits.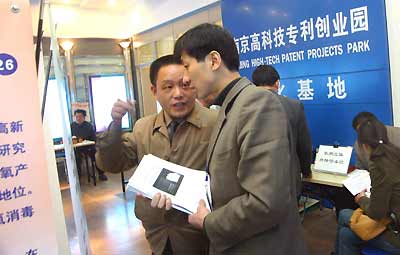 Patent agents discuss business at Nanjing High-tech Patent Venture Park. Statistics show that that there are increasing demands for patent agents in China. There are only about 4,000 certified patent agents in the country while received patent applications amount to nearly 100,000 every year.[newsphoto]

But passive defence is far from enough. Experts said local companies should set up their own IPR strategy and system.

There is a worry that Chinese companies will be badly disadvantaged as their foreign counterparts are completing a net of patents in China.

Multinationals have been stepping up their patent rights arrangements in China since 1999 in areas such as telecommunications, automobiles, electronics and medicine, according to a recent report by the Chinese Academy of International Trade and Economic Co-operation.

The number of patent applications by multinational companies has surged 30 per cent annually since 1990, the report says. The report singles out for special attention patent applications filed by eight business giants: Pfizer, Philips Electronics, Sony, Nokia, Motorola, IBM, Thomson and Volkswagen.

Pfizer, for example, has filed 725 patent applications in China.

But its number is not astonishing compared to Sony's 5,697 and Philips' 5,387, the report said.

According to the State Intellectual Property Office, foreign companies have applied for 230,000 patents in China.

Some 81 per cent of patents in the information industry are controlled by foreign companies, while the figure is 87 per cent in the bio-engineering field and 90 per cent in high-definition colour TV sets and chemical drug making.

These firms, which have always put much importance on IPR protection, have invested more in patent applications since 1990, according to Wang Zhile, the author of the report, who says that the trend has become more clear in the last four years.

"As China's manufacturing industries such as medicine, telecommunication, automobile and electronics become stronger, foreign companies know it is time for harvest by patent licensing," Wang said.

International giants usually use IPR protection as an effective tool to protect, and even increase, their market shares. They will try to curb their rivals' development by collecting royalties on IPRs and/or filing IPR-related lawsuits against their competitors, Wang said.

"That's why they usually devote a lot of time and attention to building their IPR portfolios in China, especially as they expand in this country," Wang said.

Patent licensing has become an important revenue stream for these companies, which invest millions, even billions of US dollar in research and development (R&D), according to Tian Fuyun, a lawyer from the China Trademark & Patent Law Firm.

For example, US-based IBM did a total of US$8.1 billion in business volume in 2000, of which US$1.7 billion or 21 per cent was generated from IPR transfers.

Chinese enterprises that do not have IPR development strategies will always be under the shadow of international giants, and might be pushed out of the market, Tian said.

According to Tian's observation, a patent war is on the verge of breaking out as some of the multinationals have basically completed their arrangements and related industries have become big enough.

In 2002, Chinese DVD manufacturers reached agreements with the so-called 6C patent licensing alliance - Hitachi, Matsushita, Toshiba, JVC, Mitsubishi and Time Warner - and the 3C alliance of Phillips, Sony and Pioneer to pay US$4 and US$5 respectively in royalties for every DVD player they export.

Japanese digital camera makers have requested royalties from Chinese manufacturers as digital cameras have gained popularity in the Chinese market in the last three years.

Major foreign mobile phone companies also want royalties for handsets with global systems for mobile communications (GSM) in China.

These foreign companies often raise the issue of royalties when the industry is prospering in order to gain a higher price, Tian said.

Foreign DVD technology developers pledged to collect royalties in 1999 when the domestic market began to prosper - eight years after Chinese companies started to make DVD players.

If domestic companies do not pay enough attention to patent development, registration and application, they will be like employees of foreign companies, Tian warned.

The domestic companies' IPR awareness has increased in recent years - but there was still much room to improve.

He said the experience of Japanese companies was a good lesson for today's Chinese enterprises.

Almost every major Japanese company was troubled by IPR issues during development, especially in the 1980s.

In 1982, Fujitsu, the then biggest computer vendor in the Japanese market, was accused by US giant IBM of copyright infringements of its operating system software and user manuals. In the next six years, Fujitsu fought very hard, but still ended up paying US$833 million for using IBM software.

The Japanese firms learned quickly and became keen enthusiasts in applying for patents, Tian said, adding that six of the top 10 patent owners in the United States last year were Japanese firms and Japanese electronic giant NEC ranked second only after IBM.

Tian said many Chinese firms are resigned to the challenges of their overseas counterparts in intellectual property lawsuits.

They do nothing except seek compromise through payments of large sums of licensing fees when facing intellectual property infringement charges from overseas companies.

"They will do more, while the foreign companies earn more," he said.

While paying the royalties, Tian said these companies should have a long-term strategy and try to develop something so that they could charge money from foreign companies.

The development of EVD is a good pioneering strategy.

China's digital disk technology community has worked to promote EVD or enhanced versatile disk, a new format, to shake off China's dependence on foreign DVD technologies.

Beijing E-world Technology Co Ltd, a window company of the community, applied for 25 patents for the EVD technologies, with seven being granted. Forty more patent applications are in the pipeline.

"The initial stage will be bitter, but maybe these companies can enjoy the sweet when EVD, which has a better picture than DVD, is accepted nationally and globally," Tian said.

Besides developing core technologies and registering them, Tian said Chinese companies should study more on how to make good use of their current patents.

Trade on intellectual property rights has been one of the three largest trade fields together with goods and services, Tian said.

Few Chinese companies have discovered big business opportunities, which can offset costs of developing, applying and protecting IPRs, he said.