Death toll rises to 16 in Zhejiang fire
(Xinhua)
Updated: 2004-07-30 01:46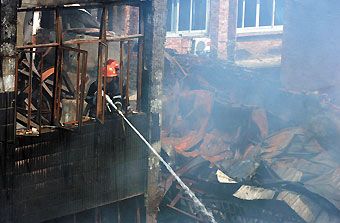 Two fireman extinguish some ash fire in the debris Thursday after a workshop fire in Wenzhou, east China's Zhejiang Province, killed at least 16 people on late Wednesday. Most of the victims are workers in a local leather factory. [newsphoto]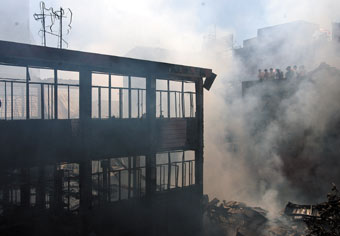 Smoke rises from the debris Thursday after a workshop fire in Wenzhou, east China's Zhejiang Province, killed at least 16 people on late Wednesday. [newsphoto]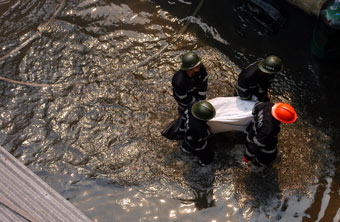 Firemen carry out a body of a victim out of the debris Thursday after a workshop fire in Wenzhou, east China's Zhejiang Province, killed at least 16 people on late Wednesday. [newsphoto]


Rescue workers Thursday afternoon found in the debris a body of a woman who had been missing after a major fire in Pingyang County of east China's Zhejiang Province late on Wednesday.

That brings the death toll from the fire disaster to 16, said sources from Zhejiang Provincial Fire Control Brigade.

According to the brigade, the fire occurred at 7:30 p.m. Wednesday at Wenzhou Glory Leather Products Co. Ltd. in Pingyang, and was extinguished by 11 p.m. the same day. At first, authorities believed that the fire only killed one person and injured two.

But by 9 a.m. Thursday, the death toll rose to 10, and the number of those injured in the fire climbed up to 12.

All the injured are now hospitalized. Debris clearing was called to an end, said the sources.

The cause of the fire is under investigation.





Today's Top News
Top China News

Beijing: Chen may cause Straits conflict




Pakistan joins land forces drill in Xinjiang




Suppliers of blood under investigation




Huawei, Cisco settle IPR dispute




More downpours to drench country




Beijing faces water, power shortages