Former US hostage testifies in Philippines
(Agencies)
Updated: 2004-07-29 14:54
An American missionary kidnapped and held for more than a year by Muslim militants in the Philippines testified against her suspected former captors Thursday in an emotional return to the country.
Gracia Burnham, whose husband Martin died in a rescue attempt by troops in June 2002, identified six out of eight suspected members of the al Qaeda-linked Abu Sayyaf group as having taken part in the kidnapping of three Americans and 17 Filipinos from a beach resort in 2001.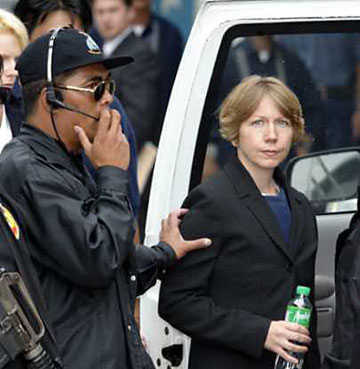 Former hostage Gracia Burnham, an American missionary, is seen after testifying against members of the Muslim rebel group Abu Sayyaf at a court hearing inside a police camp in Manila July 29, 2004. In May 2001 the Abu Sayyaf seized Gracia and her husband Martin from a southern Philippine resort. Gracia was rescued by Philippine soldiers but her husband was killed in the operation. [Reuters]


Separated from the suspects by a thin wall in a court at a Manila police base, Burnham was composed but came close to tears as she recounted the death of her husband, lawyers said. The other American, Guillermo Sobero, was among several hostages beheaded by the militants.

"Gracia gave a very smooth narration of her ordeal. It was the strongest corroborative evidence," state prosecutor Aristotle Reyes, told reporters, who were barred from the court.

"We have a very strong case."

Reyes said he had shown Burnham a rusty dog chain used by the militants to restrain her husband and blue rubber boots that she had worn during her captivity.

The 8 suspects, who sat handcuffed and silent during Burnham's 3-hour testimony, face the death sentence if found guilty of kidnapping for ransom. The trial began this year and is not expected to end for several months.

One of those identified by Burnham was Al Hamsar Limbong, suspected of beheading Sobero shortly after the abduction from the Dos Palmas resort in the southwest Philippines in May 2001.

Limbong was arrested in Manila early this year when security forces said they broke up an Abu Sayyaf cell planning bomb attacks in the capital.

Burnham's captivity ended after an army raid on the militants in June 2002 that killed her husband and a Filipino nurse.

In her book, "In the Presence of My Enemies," Burnham alleged links between Philippine officials and her captors, saying an unidentified Filipino general had tried to keep part of the money raised for ransom, and soldiers had delivered supplies to the guerrillas.

Her testimony did not touch on the alleged collusion.




Today's Top News
Top World News

Taiwan: Don't test Beijing's resolve




US police brutality victim seeks justice




Iraq suicide car bomb kills 68, wounds 56




Credit under better control




China opens first research station in Arctic




3 diplomats killed Costa Rica hostage drama