Militants claim to kill Pakistan hostages
(Agencies)
Updated: 2004-07-29 09:03
A militant group holding two Pakistani contractors hostage said Wednesday it had killed the men but freed their Iraqi driver, the Al-Jazeera television station Al-Jazeera reported.
The group, calling itself the Islamic Army in Iraq, had announced in a video Monday that it kidnapped two Pakistanis working for U.S. forces and sentenced them to death because their country was discussing sending troops to Iraq.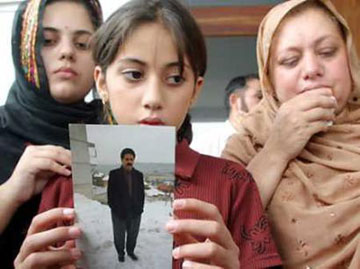 Fozia Azad (C), daughter of Pakistani hostage Azad Khan, holds a picture of her father as her mother Kausar Perveen (R) and sister Nazia Azad look on, in Islamabad, July 27, 2004. Pakistan appealed to Iraqi kidnappers on Tuesday to free two Pakistani hostages in the name of Islam, adding that no decision had been taken yet on whether to send troops to Iraq. [Reuters]


In a new videotape sent to Al-Jazeera on Wednesday, the men said they had carried out their threat, the station reported. The newsreader said the video showed the corpses of the two men; however, the station declined to show the footage.

The kidnapped men were identified by Pakistan as engineer Raja Azad, 49, and driver Sajad Naeem, 29, both of whom worked for the Kuwait-based al-Tamimi group in Baghdad. The militants also warned the company to stop doing business in Iraq or they would kill more of its employees.

"This is a brutal murder slaying. It has nothing to do with politics," Masood Khan, a spokesman for Pakistan's Foreign Ministry, told CNN. "They have taken innocent lives. Here in Pakistan, everybody will be mourning tomorrow."

The group said it had released the Iraqi driver, Omar Khaled Selman, after it was clear he had been duped by the Pakistanis. The militants released a video Wednesday showing Selman describing his ordeal.

"After interrogation, they charged us all with the death penalty, and then they postponed mine and carried out the death penalty for the two Pakistanis because it was clear that they were spies," he said.

"After further interrogation with me, they found out that I was only a driver and they released me," he said on the video broadcast on Al-Jazeera.

Militants have kidnapped more than 70 foreigners here in recent months in an effort to push countries out of the coalition, deter others from joining and disrupt reconstruction efforts.

The three men disappeared Friday after a convoy of trucks they were traveling in was attacked.

Pakistan's president and prime minister had appealed for the hostages' release, saying they were just poor men trying to support their families. The men's families also pleaded for their release in the name of Islam.

Pakistan, an Islamic nation of 150 million people and a member of the U.N. Security Council, has been a key ally of the United States in its war on terror in Afghanistan, but the country's leadership has been less supportive of the U.S. role in Iraq.

In June, Iraqi insurgents kidnapped and threatened to behead another Pakistani, Amjad Hafeez, but he was later freed.




Today's Top News
Top World News

Taiwan: Don't test Beijing's resolve




US police brutality victim seeks justice




Iraq suicide car bomb kills 68, wounds 56




Credit under better control




China opens first research station in Arctic




WWII fighter plane to be salvaged