US police brutality victim seeks justice
(Xinhua)
Updated: 2004-07-29 08:38
Chinese businesswoman Zhao Yan, who was beaten up by officers of the US Customs and Border Protection last week, has vowed to bring the assailants to justice by legal means.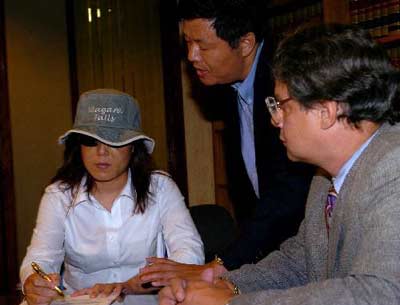 Zhao Yan (L) signs an application form delivered from the Crimes Victims Board of New York State at a law office in Queens District of New York City, the United States, July 27, 2004. Zhao, attacked by officers of US Customs and Border Protection on July 21 near the Niagara Falls at the US-Canadian border, was interviewed on Tuesday by Xinhua and other media in a wheelchair. During the interview Zhao showed her gratitude to the motherland and voiced her decision to proceed against the officers who had attacked her in disregard of normal checking procedures. The accused officer, Robert Rhodes, was charged of violating Zhao's civil rights last Friday. [Xinhua]
"I will never give up in the lawsuit until the perpetrators arebrought to justice and punished," Zhao said in an interview on Wednesday with a group of Chinese reporters at the office of her attorney Stanley Legan in Queens borough, New York, sobbing, with tears running down her cheeks and her shoulders shivering.
Seated in a wheelchair, Zhao, 37, wore a hat and sun glasses tocover bumps and bruises on her forehead for fears that her family back in China would be upset if they watched TV footage of the joint interview. But a long bruise remained clearly visible on herleft chin.
Zhao, who is from the northern Chinese coastal city of Tianjin,said she was still suffering from a bad headache, swollen eyes andmental trauma, six days after she was brutally attacked by officers of the US Customs and Border Protection in Niagara Falls near the US-Canadian border.
She said she had a broken tooth and severe back pains, which forced her to ride a wheelchair. Because of sharp physical pain and mental trauma caused by the beating, she could "barely sleep two to three hours a day."
While recalling her nightmare experience, Zhao insisted that she was beaten by more than one customs and border protection officer.
"I really want to ask them face to face: 'How would you feel ifyour sisters were beaten by several rough men?'" said Zhao, who visited the falls on a business trip to the US.
She said she and two female friends were passing a small room at around 11 pm local time on July 22 (0300 GMT on July 23) when auniformed officer inside waved to them. As she was wondering abouthis intention, the officer dashed out. Her two friends ran away, but she stayed put. Dousing her with pepper stray, the officer threw her to the ground and kicked her violently along with two tothree officers who arrived at the scene shortly.
But only the first attacker, named Robert Rhodes, was charged Friday by the US Attorney with violating Zhao's civil rights. The criminal charge is punishable by up to 10 years in prison and a fine of 250,000 US dollars. The 43-year-old agent was released on a 50,000-dollar signature bond.
In an affidavit filed in the Western District Court of New Yorkby the US Department of Homeland Security, Rhodes told officials that he mistook Zhao and her two friends as drug suspects. He saidZhao tried to pull away from him and swung her arms at him before he pepper-strayed her.
Other officers, however, said that Rhodes also threw Zhao into a wall, grabbing her hair and striking her head against the ground,according to the affidavit.
Zhao had earlier said that she planned to bring a five-million-dollar lawsuit against the US government.
Her lawyer Mr. Legan told reporters on Wednesday that the lawsuit would "most likely" be filed immediately after the conclusion of a criminal case which is expected to be heard on Sept. 20 in the Western District Court of New York in Buffalo. He strongly believed that justice would be done to Zhao.
Zhao's experience has drawn much attention from the Chinese government and media. Chinese Foreign Minister Li Zhaoxing on Monday urged the US government to carry out a thorough investigation into the attack. The US State Department has promised to do so.
Today's Top News
Top China News

Taiwan: Don't test Beijing's resolve




US police brutality victim seeks justice




Credit under better control




China opens first research station in Arctic




Japan sending team to probe toxic bombs




WWII fighter plane to be salvaged