Afghan mosque blast kills two, aid group pulls out
(Agencies)
Updated: 2004-07-29 08:30
A blast ripped through a mosque where Afghans were registering to vote on Wednesday, killing two people, and the Medecins Sans Frontieres aid agency said it was leaving the country after 24 years because of security fears.
Arguing that aid groups were now being specifically targeted, MSF issued a stinging rebuke to U.S. forces in Afghanistan, saying they used aid to help win a "hearts and minds" campaign and garner support from Afghans skeptical of their intentions.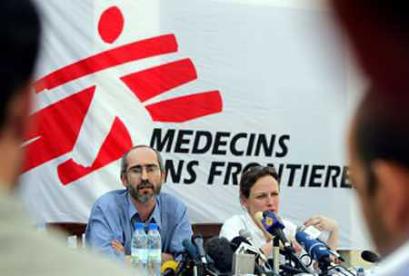 Kenny Gluck and Marine Buissonniere hold a news conference at the MSF compound in Kabul, July 28, 2004. Medecins Sans Frontieres aid agency said it was leaving the Afghanistan after 24 years because it was too dangerous. [Reuters]


"MSF denounces this attempt to co-opt humanitarian aid, to use humanitarian aid to win hearts and minds," MSF secretary general Marine Buissonniere told a briefing, adding that in doing so it had endangered the lives of humanitarian workers.

Nobel prize-winning MSF, or Doctors Without Borders, said it was leaving Afghanistan because of fears for the safety of staff after five of its workers, three of them foreigners, were killed in an attack in the remote northwest in June.

Other international aid groups such as CARE and Oxfam said security was deteriorating in Afghanistan.

CARE official Sherine Jayawickrama called the killing of the MSF staff members "part of a worsening trend that humanitarian aid workers are being targeted.

"We are constantly reassessing security," she said. "If it gets to the point where we feel our staff would be directly targeted and therefore their lives are in danger, we would have to take a very serious look at suspending programs."

OXFAM STAYING PUT

CARE has about 700 foreign and local staff workers in Afghanistan. But Oxfam, which has about 300, said it had decided not to pull out although six employees of its local partners have been killed this year.

Oxfam America official Kenny Rae said the issue was whether it could work effectively, and said many people wrongly believed all the violence in Afghanistan could be blamed on Taliban and al Qaeda fighters, while in fact regional warlords and their militias had become more powerful and abusive and increasingly dismissive of central government authority.

"The focus of the 20,000 U.S. troops is almost exclusively on mopping up Taliban and al Qaeda remnants. While this is going on, they're ignoring the security vacuum that exists in other parts of the country," Rae said.

WORST ATTACK FOR A MONTH

The mosque attack in Ghazni province was the worst on poll preparations since three women election workers were killed by a bomb in Jalalabad on June 26, a day after 16 Afghans found holding voter registration cards were shot dead in the south.

More than 900 people have been killed in violence during the past year that has targeted foreign and local troops, aid workers and people involved in preparing for the country's first free, direct elections.

But the Pentagon Wednesday was upbeat about the security situation.

"From a military point of view, operational point of view, it is pretty stable," said Lt. Gen. Norton Schwartz, director of operations for the U.S. military's Joint Staff.

"Bottom line is that we are going to be posturing the force to make sure that we provide the best possible environment for the elections to come," Schwartz told a Pentagon briefing.

The presidential election, which U.S.-backed incumbent President is expected to win, has been set for October.

Many commentators question the wisdom of pushing ahead with the vote with stability so fragile, but political analysts say the U.S. administration needs a foreign policy success story ahead of President Bush's re-election bid in November.




Today's Top News
Top World News

Taiwan: Don't test Beijing's resolve




Credit under better control




Chinese Embassy takes near hit




China opens first research station in Arctic




Japan sending team to probe toxic bombs




Plan aimed at training first woman astronaut