WWII fighter plane to be salvaged
By Qin Chuan (China Daily)
Updated: 2004-07-29 00:25
A fighter plane from the World War II Flying Tigers squad that crashed in the Dianchi Lake in Southwest China's Yunnan Province may be salvaged next August.
There are many planes at the bottom of the lake, so the work to try and locate the exact plane will begin in early August, said Ji Changchun, secretary-general of the China Association for Expedition.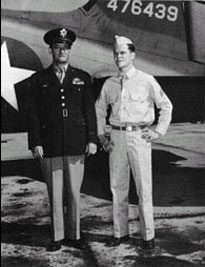 American General Claire Chennault and a volunteer pilots pose before a fighter plane. [newsphoto/file]

"We will start with one that is most probably the fighter, which is in the northern part of the lake," Ji said.

The Flying Tigers were led by the late American General Claire Chennault and consisted of American volunteer pilots.

They transported arms and other material and carried out air raids while giving support to China against the Japanese invaders.

On April 28, 1942, the plane, possibly a P-40 fighter, crashed into the lake during a training exercise. The body of the pilot was recovered soon after.

After years of preparation, the China Association for Expedition and the US-based Sino-American Aviation Heritage Foundation started to work on retrieving the plane last August.

After it is reclaimed, the fighter will be sent to the US for repairs. The best case scenario will see the plane back in the air, Ji said, adding that it will also be exhibited across the US.

Some experts in the US believe it is possible that it can fly again because according to former members of the Flying Tiger Fleet, it was not seriously damaged, said Yan Jiangzheng, chairman of the association, during the launch of the salvage operation last August in Beijing.

Finally, the plane will return to China, Ji said.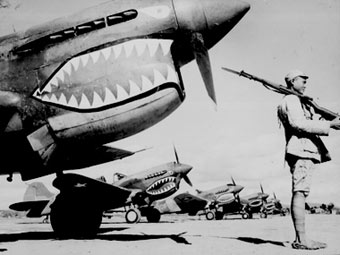 A Chinese soldier stands guard before P-40 fighers used by Flying Tiger squad. [newsphoto/file]


Given it is the only existing fighter used by the Flying Tiger Fleet, whose fame continues to grow long after the war, it is of historical significance, Yan said.

Ji said the foundation will be responsible for the repair and exhibition in the US.

The salvage operation will cost more than 9 million yuan (US$1.09 million). Of that, 3 million yuan (US$362,000) has already been spent, Ji said

The foundation is also trying to raise more funds for the work.




Today's Top News
Top China News

Taiwan: Don't test Beijing's resolve




China opens first research station in Arctic




Chinese Embassy takes near hit




Japan sending experts to probe toxic bombs mishap




Credit under better control




Plan aimed at training first woman astronaut