Japan sending team to probe toxic bombs
By Cao Desheng (China Daily)
Updated: 2004-07-29 00:25
Responding to China's solemn representations, the Japanese Government will dispatch a team of experts to investigate the latest incident involving chemical weapons abandoned by Japanese troops during World War II.
The team will travel to Dunhua, Jilin Province, where two schoolboys were injured after finding chemical weapons, a Japanese embassy official said Wednesday in Beijing.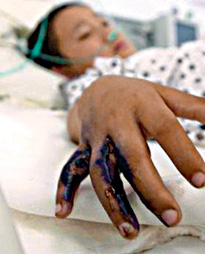 Liu Hao, 9, receives an intravenous drip at the Dunhua Municipal Hospital Tuesday. Liu has blisters on his right leg and hand. He and three other boys found the bomb in a river when they were playing there last Friday. [newsphoto]

China summoned Japanese diplomats on Tuesday and lodged solemn representation over the issue.

But embassy official did not say when the expert team will arrive.

Further action will depend upon the result of the investigation, she said.

The two victims are undergoing medical treatment at a local hospital.

They uncovered the 50-centimeter-long barrel six days ago when they were playing near a river close to their village Lianhuapao.

Out of curiosity, one of the boys pried open the rusted weapon and the liquid flowing out of the barrel splashed onto their fingers and legs. The liquid caused blisters and burns.

Local people often find such weapons in the nearby mountains, Yu Shuncheng, a local farmer told local media.

Due to a lack of knowledge, local people usually do not realize the potential dangers.

In 1954, Yu and his family found 360 such weapons in a local mountain.

Many farmers threw the weapons away in their courtyards at random, he said.

Some 670,000 chemical weapons were dumped in Dunhua, the area with the most abandoned Japanese chemical weapons in China, said a report in the Shanghai-based Oriental Outlook.

Experts say the potential hazard of Japanese chemical weapons remains since many farmers are not aware of the serious damage they may cause.




Today's Top News
Top China News

Taiwan: Don't test Beijing's resolve




Credit under better control




Chinese Embassy takes near hit




China opens first research station in Arctic




Japan sending team to probe toxic bombs




Plan aimed at training first woman astronaut