Chinese Embassy takes near hit
By Tong Haihua (China Daily)
Updated: 2004-07-29 00:25
A rocket hit the road in front of the Chinese Embassy in Afghanistan at around midnight on Tuesday, Kabul authorities said.
The incident occurred amid political tensions and tightened security in the Afghan capital since transitional president Hamid Karzai Monday dropped a major warlord as his running mate for the October 9 election.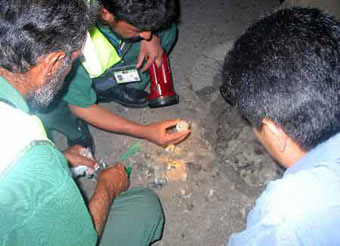 International security forces in Kabul examine the explosion site Tuesday. [Xinhua]


"No one was injured in the blast which happened about 11:53 pm on Tuesday,"Sun Yuxi, China's ambassador to Afghanistan said in a telephone interview with China Daily.

The attack left a 60-centimetre-wide crater in the road 14 metres away from the embassy's Consulate Department.

The gate of the embassy was left with a 1-centimetre-wide hole, and the outside wall of the embassy suffered a divot as big as a bottle lid and seven or eight pockmarks, while the inside wall of the embassy was slightly damaged, Sun said.

A gatekeeper's room and another housing eight police officers were also left slightly marred, Sun added.

International Security Assistance Force (ISAF) soldiers cordoned off the road, collected shrapnel and are carrying out an investigation, Sun said.

The blast site is only four metres away from the house for the Minister of Health in Afghanistan, so whether the Chinese embassy was the intended target is not clear,Sun said.

The Chinese Embassy has asked the ISAF to notify the Chinese side of the investigation's results as they are known, Sun said.

The embassy has taken measures to ensure security, including the establishment of a second defensive gate, and an increase in the number of police, Sun said.

The explosion was much stronger and nearer than previous rocket attacks in the area, said Guo Hui, secretary to the Chinese Ambassador.

This was the fourth rocket attack in the area in the last two months. The country's Presidential Palace, Foreign Ministry and the UN headquarters in Afghanistan are also located in the vicinity.

Fighters loyal to the ousted Taliban are blamed for frequent attacks on Kabul, although they rarely inflict serious casualties. One woman was killed earlier this month by rocket shrapnel.

Around 900 people have been killed over the past year in a wave of violence mostly blamed on remnants of the hard-line Islamic regime, opposed to the US-backed government and its plans for elections in October and April.




Today's Top News
Top China News

Taiwan: Don't test Beijing's resolve




Credit under better control




Chinese Embassy takes near hit




China opens first research station in Arctic




Japan sending team to probe toxic bombs




Plan aimed at training first woman astronaut