Suicide car blast kills 68 people in Iraq
(Agencies)
Updated: 2004-07-28 17:12
A suicide car bomb exploded on a busy downtown boulevard in Baqouba on Wednesday, reducing a bus full of passengers to a charred wreck, ripping through nearby shops and killing at least 68 Iraqis in one of the deadliest single insurgent attacks since the U.S. invasion.
Dozens of burned bodies were strewn in the street and piled on curbsides, and vehicles, fruit stalls and shops were a bloody tangle of twisted metal from the blast, which targeted Iraqis lined up outside a police recruiting station. Most of the victims were civilians or from among the hundreds of men waiting to join the force.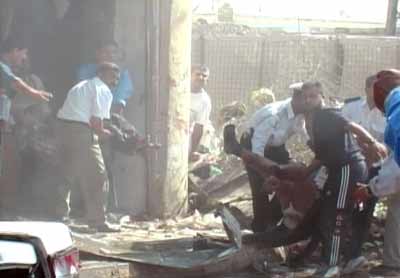 Iraqi police carry wounded from a damaged shop, following an explosion in Baquba 60 kms (45 miles) north of Baghdad, July 28, 2004 in this frame grab taken from video footage. A suicide car bomb attack in the Iraqi city of Baquba on Wednesday killed at least 30 people and wounded 70, a senior Interior Ministry official said. [Reuters]

"These were all innocent Iraqis, there were no Americans," an angry man shouted as Iraqis tried to cover the dead with pieces of cardboard.

The attack, the deadliest since Americans handed power to an Iraqi government June 28, came three days ahead of a national conference aimed at creating an interim assembly — widely considered a vital step toward democracy. Iraqi officials have warned attacks could intensify as the country tries to move forward.

Elsewhere, U.S. and other coalition forces were caught in fierce gunbattles with militants in two cities.

A raid by Iraqi forces backed by U.S. and Ukrainian troops sparked fighting in Suwariyah, southeast of Baghdad; 35 guerrillas and seven Iraqi policemen were killed. Ten Iraqi police were wounded and 40 insurgents were captured, said Polish Lt. Col. Artur Domanski, a multinational force spokesman.

In Ramadi, west of the capital, insurgents launched near simultaneous attacks on several U.S. bases, wounding 10 soldiers. A guerrilla was killed, and during the fighting a mortar hit an apartment building, killing an Iraqi woman. Later, gunmen in the city fired on two U.S. aircraft, damaging both and wounding a pilot, a military spokesman said without specifying the type of craft.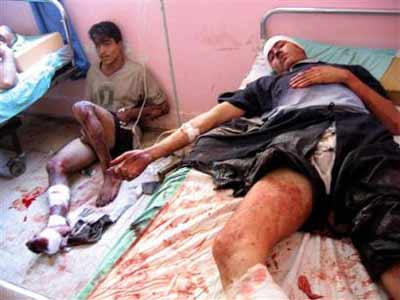 Patients injured during a car bomb blast lie in hospital beds in Baqouba, some 65 kms northeast of Baghdad, Wednesday July 28, 2004. A suicide attacker killed between 20 and 30 people and wounded some 55 others, when a bomb-laden vehicle exploded outside a central Baqouba police station Wednesday. [AP Photo]

The blast in Baqouba, an insurgent hotbed 35 miles northeast of Baghdad, was the latest to cause heavy civilian casualties. Such deaths have angered many Iraqis even as guerrillas insist their fight is against U.S. troops and the new American-backed government. U.S. forces have been trying to lower their profile and put Iraqi security forces in the front lines.

"(The bombing) was once again an attempt by murderers to deny the Iraqi people their dream of a peaceful country that rests on a solid foundation of freedom," Secretary of State Colin Powell said during a news conference in Cairo. "We have to condemn it, we have to fight it. We must not let these kinds of tragic incidents deter us from our goal."

Iraqi officials have expressed concerns that Saturday's national conference will be a major target for attack. During the conference, some 1,000 delegates are to put together an assembly that will work alongside Prime Minister Iyad Allawi's government.

"The terrorists' goal is to hamper the police work, terrorize our citizens and show that the government is unable to protect the Iraqi people, and this will not happen," said Hamid al-Bayati, a deputy foreign minister.

The 10:13 a.m. bombing shattered the bustling heart of a commercial district filled with shops, government buildings and the police station.

Twenty-one of the dead were passengers on a white commuter bus that was left a charred husk by the blast. Pieces of glass, twisted metal and abandoned shoes, all covered in blood and human remains, were strewn across the pavement, and a shop's white security gate was splattered with blood.

Witnesses said the bomb targeted men waiting outside the al-Najda police station trying to sign up for the force.

"As one of the officers was giving us instructions on how to register we heard a big explosion," said one of the men in line, 33-year-old Sabah Nouri, whose left leg and hand were injured. "Suddenly I found myself being thrown to the ground and I was unable to move."

The blast killed 68 people and wounded 56 others, according to Saad al-Amili, a Health Ministry official. "It's all civilian casualties at this stage," U.S. Army Capt. Marshall Jackson said.

The local hospital was overwhelmed with the casualties. Every bed was filled, forcing many of the injured to sit on the floor amid pools of blood as frantic health workers treated them. One injured man sat against the wall, holding his head in his hands and weeping.

The blast was one of the deadliest single bomb attacks in Iraq since the fall of Saddam Hussein more than a year ago. On Aug. 29, a car bomb exploded outside mosque in the southern Shiite Muslim holy city of Najaf, killing more than 85 people.

This year, militants have carried out a number of devastating attacks using multiple bombers. Coordinated attacks in north and central Iraq — including Baqouba — on June 24 killed 89 people, including three U.S. soldiers. On April 21, five suicide bombings near police stations and police academy in southern city of Basra killed 74 people and wound 160 others. A coordinated attack on Shiite Muslim shrines in Karbala and Baghdad on March 2 killed at least 181.

The large number of civilian casualties in attacks has angered many and even raised questions on Internet forums used by Islamic extremists, where the morality of killing Muslims who work for U.S. coalition forces in Iraq has long been debated.

In an audio recording posted Wednesday on one such site, a speaker purported to be the spiritual adviser of an Iraqi insurgency group justified killing fellow Muslims when they protect infidels or even the deaths of bystanders in an attack.

"If infidels take Muslims as protectors and Muslims do not fight them, it is allowed to kill the Muslims," said the speaker, identified as Sheik Abu Anas al-Shami, spiritual leader of Tawhid and Jihad, a group led by al-Qaida-linked Jordanian militant Abu Musab al-Zarqawi.

The speaker also said that if Muslims who "mingled" among infidels were killed in an attack, that would be justified because killing infidels is paramount. The tape was recorded before the June 28 handover of power.

In other violence:

_ A U.S. soldier was killed and three others injured late Tuesday when a roadside bomb severely damaged their armored Humvee while patrolling the town of Balad-Ruz, about 40 miles northwest of Baghdad, according to army spokesman Master Sgt. Robert Powell. The soldier's death raised the toll of U.S. military personnel killed in Iraq to 905 since the war began, according to an Associated Press tally.

_ Insurgents fired a rocket Wednesday afternoon that landed near a police station the Rahmaniya neighborhood of Baghdad, killing one Iraqi and injuring four, the U.S. military said.

_ In the northern city of Kirkuk on Wednesday, gunmen in a car killed policeman Udai Saddam as he waited for a taxi to get to work, Iraqi police official Col. Sarhat Qadr said.




Today's Top News
Top World News

Foreign trade expected to top US$1,000 billion




China opens first research station in Arctic




Opinion: China policy volatile in US election




Suicide car blast kills 68 people in Iraq




Chinese-American faces trial for spying




China shuts down 700 porn websites