Suicide car bombing kills 51 in Iraq
(Agencies)
Updated: 2004-07-28 17:12
A huge explosion caused by a suicide car bomb tore through police and government buildings in central Baqouba on Wednesday, killing 51 people and injuring scores more, U.S. military and Iraqi health officials said.
At least 40 people were wounded by the blast outside the al-Najda police station, which was being used as a police recruiting center, in the turbulent city about 35 miles northeast of Baghdad, according to Saad al-Amili, a Health Ministry official. He said 51 people were killed.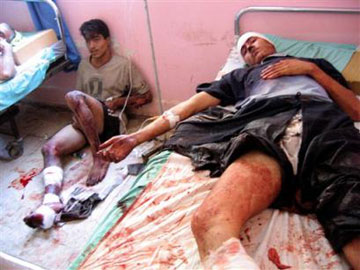 Patients injured during a car bomb blast lie in hospital beds in Baqouba, some 65 kms northeast of Baghdad, Wednesday July 28, 2004. [AP]


U.S. Army Capt. Marshall Jackson was aware of 20 people dying in the blast caused by an explosives-filled white truck "right in the heart of Baqouba."

"Basically there's a police station in the area, government buildings in the area ... little shops, fruit stands, basically where all the action takes place," Jackson, from the Army's 3rd Brigade in Baqouba, told The Associated Press.

An Iraqi hospital official, Hussein Ali, said at least 55 people were injured.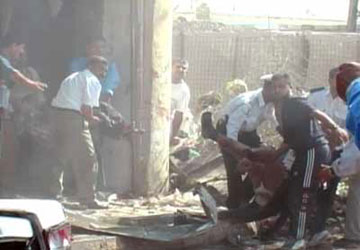 Iraqi police carry wounded from a damaged shop, following an explosion in Baquba 60 kms (45 miles) north of Baghdad, July 28, 2004 in this frame grab taken from video footage. A suicide car bomb attack in the Iraqi city of Baquba on Wednesday killed at least 30 people and wounded 70, a senior Interior Ministry official said. [Reuters]


"Right now it doesn't look great. It's all civilians casualties at this stage," Jackson said.

The blast destroyed nearby shops and turned cars into mangled, burned out wrecks. Charred and dismembered bodies lay in a street amid pools of blood, building debris and shattered glass.

The body of one victim lay underneath a slab of concrete, while emergency crews carried the bodies of injured and slain victims into waiting ambulances.

Baqouba has been the scene of regular anti-coalition attacks since U.S.-led forces invaded Iraq in March, 2003, but fighters have also targeted Iraqi police forces, who are regarded as easier targets than the better equipped American troops.

On July 19, a fuel tanker truck plowed toward a police station in southwest Baghdad, detonating and killing at least nine people and wounding more than 60 people.

Iraqi officials expect attacks to continue and intensify as the country tries to edge toward democracy; they anticipate that the national conference, expected before the end of this month, to be a major terror target.

Elsewhere, a U.S. soldier was killed and three others injured while on patrol in northern Iraq, the military said Wednesday.

The soldiers, from the 1st Infantry Division, were traveling in an armored Humvee when the bomb detonated late Tuesday in the town of Balad-Ruz, about 40 miles northwest of Baghdad, according to army spokesman Master Sgt. Robert Powell.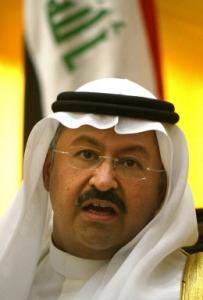 Iraq's interim President Ghazi al-Yawar speaks during a meeting with tribal chieftains from the restive western al-Anbar province at his office in Baghdad. Yawar vowed there would be no compromise with hostage takers. [AFP]


The force of the blast severely damaged the vehicle, killing one soldier, Powell said. Three injured soldiers were hospitalized in stable conditions.

The death of the soldier, whose identity hasn't been released yet, raises the toll of U.S. military personnel killed in Iraq to 905 since the war began, according to an Associated Press tally.

In the northern city of Kirkuk on Wednesday, gunmen in a car shot dead local policeman Udai Saddam as he waited for a taxi to get to work, Iraqi police official Col. Sarhat Qadr said. The attackers fled the scene.

Qadr also said that two men trying to plant a bomb on an oil pipeline near Kirkuk were killed early Wednesday when the explosive device detonated prematurely.

He said no damage was caused to the pipeline in the Kibrit region, about 28 miles northwest of Kirkuk.

Amid the violence, Iraq's early steps toward democratic reform have been taking place.

The national conference for 1,000 delegates to choose an interim assembly would begin Saturday organizers announced Tuesday, widely considered a vital step toward democracy in a nation struggling to deal with a persistent campaign of kidnappings and other violence.

Coalition troops and interior ministry forces will assist authorities in protecting the three-day event.

The conference, stipulated under a law enacted by the former U.S. occupation authority, was to have been concluded by the end of July, but it had to be delayed because preparations were behind schedule, conference chair Fuad Masoum said.

"There was an idea put forward by the United Nations to delay the conference because of a lack of preparation, from technical and other perspectives," Masoum said. "We don't want to go ahead without the U.N."

The United Nations wanted a longer delay, which organizers vetoed.

"Creating the conditions for a successful outcome to the conference is more important than holding it on time," U.N. spokeswoman Marie Okabe said in New York.




Today's Top News
Top World News

Opinion: China policy volatile in US election




Suicide car bombing kills 51 in Iraq




Chinese-American faces trial for spying




China shuts down 700 porn websites




Boomtowns change path of China's growth




Japanese-left bombs injure Jilin boys