Iraq to hold national conference despite violence
(Agencies)
Updated: 2004-07-28 08:36
Iraq said on Tuesday a major national conference, billed as a crucial next step on its road to democracy, would begin on Saturday despite guerrilla violence racking the country.
Organizer Fouad Massoum said the conference, due to be attended by about 1,000 people, would take place in Baghdad, even though the United Nations had requested a delay.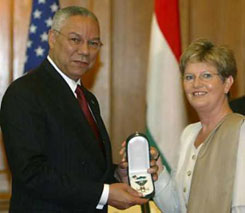 US Secretary of State Colin Powell receives a top Hungarian honor from Chairman of the Hungarian Parliament Katain Szili, in Budapest, July 27, 2004. Powell urged allies in Iraq not to bow to guerrillas waging a campaign of hostage-taking and bombing as an attack wounded 14 foreign soldiers in Baghdad. [Reuters]

"Credibility is essential because any delay would be explained in a negative way," Massoum told a news conference.

"So it has been decided that the conference will be held on the 31st of July for one day, or at the maximum for two days."

U.S. Secretary of State Colin Powell urged allies in Iraq not to bow to guerrillas waging a campaign of hostage-taking and bombing, which claimed new victims on Tuesday.

The United Nations, which first proposed the conference in May and said it should be held before the end of July, had pushed in the past week for it to be postponed for several weeks to allow more time to prepare for such a large gathering.

The conference is supposed to bring together representatives from all walks of Iraqi life -- religious, ethnic, political and otherwise -- to select a 100-member National Council to act as a check on Iraq's interim government until elections in January.

Fourteen foreign soldiers were wounded when guerrillas fired several mortar rounds in Baghdad. An Iraqi civilian was killed.

One U.S. and three Albanian soldiers were wounded when an explosion hit their vehicle in a rural area outside the northern Iraqi city of Mosul, said Albanian Major Bilbil Bici.

KIDNAPPING BLIGHT

Guerrillas have snatched a dozen foreigners in the past week, piling pressure on foreign forces and firms to leave Iraq at a time when the interim government is reliant on 160,000 mostly U.S. foreign troops while it builds its own forces.

"Democracy is hard. Democracy is dangerous. And this is the time for us to be steadfast, not get weak in the knees," Powell said on a visit to Hungary, which has sent 300 troops to Iraq.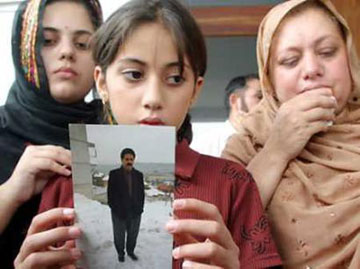 Fozia Azad (C), daughter of Pakistani hostage Azad Khan, holds a picture of her father as her mother Kausar Perveen (R) and sister Nazia Azad look on, in Islamabad, July 27, 2004. Pakistan appealed to Iraqi kidnappers on Tuesday to free two Pakistani hostages in the name of Islam, adding that no decision had been taken yet on whether to send troops to Iraq. [Reuters]


"We must not allow insurgents, those who will use bombs and kidnapping and beheadings, to triumph."

The employer of two Jordanian drivers seized by kidnappers said he would stop work on a U.S. base near the Syrian border, in a bid to win their release.

But Rami Oweis would not say whether the firm would halt its other operations in Iraq where it is believed to have secured several subcontracting deals with the U.S. military.

Another guerrilla group said in a video tape sent to Al Arabiya television it would cut off the road from Jordan to Baghdad and attack Jordanian trucks and businessmen unless Jordan stopped cooperating with U.S.-led forces.

The United States and Prime Minister Iyad Allawi's interim government have criticized the Philippines which pulled its troops out of Iraq this month to save a Filipino hostage.

Washington has said its troop coalition in Iraq was strong despite the departure of the Philippines, which joined Spain, the Dominican Republic, Nicaragua and Honduras as nations that have left what was once a 34-member coalition.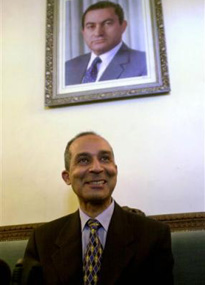 Mohammed Mamdouh Helmi Qutb, the third highest ranking diplomat at the Egyptian mission, who was released Monday night by kidnappers, smiles under a portrait of Egyptian President Hosni Mubarak during a press conference after he arrived at the Egyptian Embassy in Mansour, northwest of Baghdad, Iraq early Tuesday July 27, 2004. [Reuters]

DIPLOMAT FREED
Egyptian diplomat Mohamed Mamdouh Qutb, the number three in Egypt's embassy, was released on Monday after being held for three days by Iraqi guerrillas in Baghdad.
"At the beginning they threatened to kill me. But later they apologized and at the end they gave me a string of prayer beads and a dagger as presents," Qutb told Reuters. "I think it was a vivid experience. I just hope it doesn't happen again."
Some hostages have been freed, but at least six have been killed by their captors, four of them by beheading.
Seven truckers -- three Indians, three Kenyans and an Egyptian -- were taken hostage by militants this month. Other hostages include two Pakistanis and the two Jordanian drivers.
Nearly two dozen countries have had to deal with kidnappings since April. Their dilemmas have sparked some testy exchanges with the United States and its allies, especially Australia.
The Australian government refused to apologize to Spain and the Philippines on Tuesday after blaming them for encouraging militants to issue threats by withdrawing troops from Iraq.
Foreign Minister Alexander Downer said both countries needed "to face up to the truth" that they were being exploited.
Spain summoned Australia's ambassador in Madrid on Monday to protest at Downer's comments.
The Spanish Socialists had vowed to pull troops out of Iraq and made good on the promise after winning a general election in March, days after Madrid train bombings that killed 191 people.
Purported statements from al Qaeda-linked militants said the bombings were retaliation for Spain's troop deployment to Iraq.
Today's Top News
Top World News

Opinion: China policy volatile in US election




Foreigners encouraged to invest in W. China




Chinese-American faces trial for spying




China shuts down 700 porn websites




Japanese-left bombs injure Jilin boys




Explosion shakes Chinese embassy in Kabul