Car bomb in Iraq's Mosul wounds 8 -US military
(Agencies)
Updated: 2004-07-26 15:23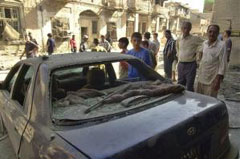 Iraqi civilians gather around a damaged vehicle at the site of a mortar attack near an Iraqi police station in Baghdad, Iraq July 26, 2004. [Reuters]

Suspected car bombs hit Baghdad and near a U.S. base in northern Iraq on Monday in fresh security challenges to the interim Iraqi government ahead of a major political gathering expected this week.

A U.S. military spokeswoman said five U.S. soldiers and three members of the Iraqi security forces were wounded when a car exploded about 50 yards from the southern gate of the base at an airfield near the northern city of Mosul.

Insurgents have stepped up suicide car bombings and a spate of assassinations and kidnappings since a brief lull when the interim government took over from U.S.-led occupiers on June 28.

Police said the car bomb in Baghdad wounded no one. Wreckage of the vehicle was scattered over the road.

"A car bomb exploded at 8 a.m. near Sarafiya bridge, but thank God no one was hurt," police Lt. Jamal Abbas said.

There were also several mortar attacks on Baghdad, and residents said a suspected mortar wounded one man in the city's Batawin district. Television pictures showed a destroyed car while storefronts were pushed in and pockmarked with holes.

Police said a mortar also hit the abandoned Higher Education Ministry building, hurting no one. Residents said another mortar landed in some waste ground nearby, also causing no casualties.

In the southern city of Basra, hospital officials said gunmen opened fire on a car carrying several Iraqi women to work, killing two and wounding two others.

Despite the violence, Iraq has said it will push ahead with a national conference at the end of this month that is a key step in giving Iraqis a real say in how their country is run.

The United Nations has pushed for a delay, saying more time is needed to prepare for what is a huge undertaking.

The event will bring together 1,000 Iraqis from across the country to select a 100-member National Council to oversee the interim government until elections next year. It would be the largest, most representative gathering of Iraqis in decades.

It is due to kick off about July 28 and will last at least two or possibly three days, officials have said, although diplomats have said it might start a little later.

In fresh pressure on U.S. allies in Iraq, an Internet statement purportedly from a militant Islamist group on Monday threatened to attack Italy if it did not withdraw its 2,700 troops from Iraq.

"This is a warning to the Italian government which has given itself to serving the criminal American crusade to follow the example of others and leave Iraq," said the statement signed by the Abu Hafs al-Masri Brigades.

"If not, we will speak in the language of blood and shake the earth everywhere in your depths."

The same site on Saturday carried a statement signed by another group claiming to be a branch of al Qaeda in Europe which warned Italy and Australia of "columns of rigged cars" if they did not pull troops out of Iraq.

Australia, which has 850 troops in and around Iraq, said it would ignore the threats.

HOSTAGE CRISIS

Militants bent on undermining the interim government have stepped up their campaign of hostage-taking to press demands that foreign troops and foreign companies leave.

A Kuwaiti company said on Sunday it had received assurances that seven of its employees being held hostage would be freed.

The kidnappers of the seven truckers -- three Indians, three Kenyans and an Egyptian -- were reported by Al Arabiya television to have appointed a senior tribal leader to mediate after having threatened last week to behead the captives.

Pakistan has said it believed two of its nationals missing in Iraq since Friday had been kidnapped. A senior Egyptian diplomat was also seized last Friday.

Dozens of foreigners have been taken since April. Some have been freed, but at least six have been killed by their captors, four of them by beheading.

The Philippines withdrew its troops from Iraq this month to spare the life of a Filipino hostage. It joined Spain, the Dominican Republic, Nicaragua and Honduras as countries that have pulled out of what once was a 34-nation U.S.-led coalition.

The idea for the national conference was suggested in May by former U.N. envoy Lakhdar Brahimi, who saw it as a way of building consensus among Iraq's disparate groups.

U.S. and Iraqi forces have been planning for weeks for the event, which will take place at a undisclosed location in Baghdad. The National Council will have the power to veto decisions taken by the interim government.




Today's Top News
Top World News

Chinese FM urges US to punish officer for beating




Hijack threat disrupts Air China flight




China's agricultural sector opening further




Central bank to ensure 'soft landing'




Esperanto speakers gathering in Beijing




Migrant workers to get injury insurance