Iraq hostage crisis spirals, 6 killed so far
(Agencies)
Updated: 2004-07-25 17:05
Two Pakistanis working for a Kuwait-based company were missing and feared kidnapped on Sunday as Iraq's hostage crisis deepened, with at least 22 countries so far affected by the wave of abductions.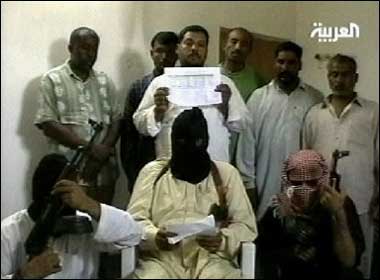 The captors of seven hostages -- three Indians, three Kenyans and an Egyptian -- held in Iraq offered a new 48 hour deadline to their Kuwaiti employer to meet their demands, according to a video shown on Al-Jazira television. [AFP]
Pakistan's Foreign Office said two nationals, an engineer and a driver believed to be working for the al-Tamimi Group, went missing late on Friday as they drove toward Baghdad.
"We are trying to find out the details. It is feared they have been kidnapped," an Office spokesman said. "We will try our best to get them released if they are kidnapped."
Over the past 15 months, nationals from nearly two dozen countries have been kidnapped in Iraq, sometimes by criminal gangs, but increasingly by militants seeking to put pressure on governments and foreign companies to pull out of the country.
In a step up in sophistication for militants, a senior Egyptian diplomat was seized as he left a Baghdad mosque on Friday. Most of those kidnapped so far have been drivers.
Abductions have sharply increased since April, when several dozen people were seized in one month. Around 60 people have been taken hostage since then, officials say.
Although most have since been freed, at least six have been killed -- four of them by beheading -- and on at least two occasions the hostage-takers' demands have been met, a move that may be fueling the surge in abductions.
Don't Bukle, Says Iraq
The seizure of the Pakistanis came as a group calling itself al Qaeda's arm in Europe said Italy and Australia, both strong allies of the United States, must pull out of Iraq or face attacks at home, while Iraq's interim Prime Minister Iyad Allawi urged nations not to give in to terrorists.
"Australian people, if your government refuses to withdraw ... we will shake the ground beneath your feet ... and columns of rigged cars will not stop," declared a group calling itself Islamic Tawhid Group, the al Qaeda organization, Europe.
"Italian people, we advise you accept our offer and if you refuse you will hear columns of rigged cars shaking your cities," the group said in a statement posted on a Web site.
Australia's Foreign Minister Alexander Downer said he was not familiar with the group but was taking the threat seriously.
"Nevertheless it's a threat, it's on the Internet, we take it seriously," he told Australian television.
"What it does is, it reminds us that we have to be absolutely determined in the face of the threats of terrorists to make sure that we don't give in to those threats."
During a stopover in Syria, part of a week-long tour of Arab and neighboring states, Allawi urged Egypt and all other nations not to give in to the kidnappers.
"The only way to deal with terrorists is to bring them to justice and to close ranks and we hope that Egypt and the Egyptian government would act accordingly," he told reporters.
"We are going to win. I assure you of that and we are going to prevail and the terrorists will be brought to justice."
Criminal or Political?
The hostage-taking campaign broadly appears aimed at pushing nations to withdraw from Iraq, although some groups have also demanded prisoners be freed or compensation be paid to victims of U.S. military offensives. Some are criminals wanting money.
Last week, the Philippines decided to withdraw its troops from Iraq early to spare the life of a Filipino hostage. It joined Spain, the Dominican Republic, Nicaragua and Honduras in pulling out of what was once a 34-nation U.S.-led coalition.
The number of countries that have had citizens kidnapped is now almost as large as the U.S.-led coalition, and includes many nations that are not proponents of U.S. policy in Iraq, including Russia, France, Switzerland and Canada.
As well as the two Pakistanis and the Egyptian diplomat, three Indians, three Kenyans and another Egyptian -- all drivers -- were seized in the past week and are still being held.
Concerned that other nations may follow the example of the Philippines, the United States has urged allies to stand firm.
Iraqis have also suffered in the spate of abductions -- the chief of Iraq's al-Mansour Construction Company, a state-owned firm, was kidnapped on Saturday as he drove to work in Baghdad.
Aside from the kidnappings, violence and sabotage continue. An oil pipeline north of Baghdad was blown up on Saturday, further disrupting attempts to restore the country's infrastructure.
On Saturday, a U.S. soldier was killed and another critically wounded in a bomb attack on their vehicle north of Baghdad. At least 667 U.S. soldiers have died in action in Iraq since the invasion in March last year.
Today's Top News
Top World News

President Hu stresses both national defense, economy




U.S. officer arrested for beating a Chinese




Iraq hostage crisis spirals, 6 killed so far




Bush leads Kerry in US electoral votes




More bonus planned for Olympic winners




Official killed by suicide bombing in Sichuan