Filipino hostage back home after two-week ordeal
(Agencies)
Updated: 2004-07-22 16:04
Freed hostage Angelo de la Cruz arrived home to a hero's welcome on Thursday as Manila started to count the diplomatic cost of its decision to withdraw its troops from Iraq to save him from beheading by militants.
Two days after he was released in Baghdad, the 46-year-old was greeted at Manila international airport by his father and eight children before meeting President Gloria Macapagal Arroyo, who risked her close ties with Washington to save his life.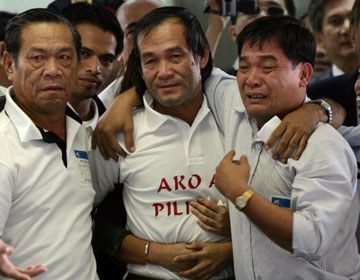 Angelo de la Cruz (C), a Filipino truck driver freed by Iraqi militants, hugs his brother Willie (R) upon his arrival at the Manila International airport July 22, 2004. [Reuters]


He flew back with his wife Arsenia and youngest brother Jesse after being reunited with them on Wednesday night in Abu Dhabi, where he had a medical check-up.

An unknown truck driver until his abduction two weeks ago, de la Cruz has become a high-profile symbol of the 8 million Filipinos working overseas to support their families back home.

"We have prepared a welcome party for Angelo de la Cruz," said Mark Lapid, governor of the driver's home province of Pampanga, north of the capital. "He will be given a hero's welcome not only in his village but by the country."

By bowing to the militants' demands, Arroyo appears to have calculated that she had more to lose from a popular backlash against de la Cruz's execution than from a deterioration in ties with the United States.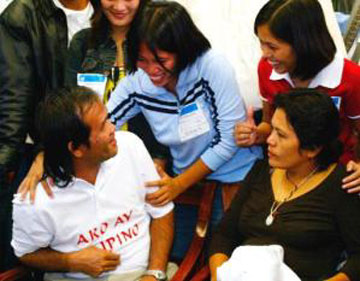 Released Filipino hostage Angelo Dela Cruz, left, is greeted by his daughters Judith, center, and Jackie, second row right, as his wife Arsenia, right seated, looks on during a news conference upon his arrival at the Ninoy Aquino International Airport in Manila, Philippines, Thursday, July 22, 2004. [AP]


The move has broad support at home, with one survey showing 74 percent of 300 respondents in the capital said she "made the right decision" to withdraw the 51 troops a month early.

Only 19 percent disagreed with the withdrawal.

Diplomats and analysts see little long-term impact on US-Philippine ties given Washington's interest in helping its Asian ally to battle several Muslim insurgencies in the south of the country, but do not rule out some kind of retaliation.

US Ambassador Francis Ricciardone was due to fly home on Thursday for what he described as "consultations" with superiors in Washington.

US State Department officials have joined other allies in criticising Arroyo's decision, saying it was a capitulation to terrorism that would likely encourage more hostage-takings.

A new hostage crisis erupted in Iraq on Wednesday, with guerrillas saying they had seized three Indians, two Kenyans and an Egyptian and threatening to kill them one by one unless the Kuwaiti company they worked for pulled out of Iraq.

The Philippine government banned workers from going to Iraq after de la Cruz was abducted, but an estimated 4,100 Filipinos are still there, most working in US and UK-run military bases.




Today's Top News
Top World News

Relief in sight for long-suffering passengers




Iraqi group threatens to behead new hostages




Flooding and droughts plague China, together




China refutes UK official's intervention in HK




High officials caught embezzling, taking bribes




Beijing tops costly cities for living on mainland