Swimwear for Athens Olympics debuts
(Shanghai Star)
Updated: 2004-07-22 11:26
The official swimwear for the Athens Olympic Games to be worn by the Chinese National Team has made its Shanghai debut. The swimwear - Speedo Fast Skin FSII (second generation) - is said to be 4 per cent faster than other swimming costumes.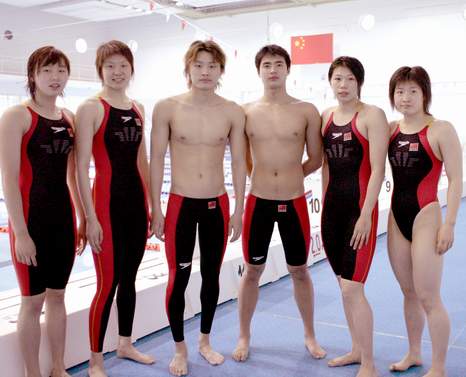 The Chinese swimming atheletes for the upcoming Athens Olympics pose for a group photo in Speedo Fast Skin FSII. [file photo]

At the same time, Speedo also released its latest fashion collection for the summer.

Speed Fast Skin FSII is high-tech swimwear which helps swimmers move through water faster by closely mimicking the skin of a shark and reducing drag.

Four years ago, Fast Skin FSI helped swimmers win 83 per cent of all swimming medals at the 2000 Sydney Olympic Games. FSI swimmers broke 13 world records and the costumes were proved to be 3 per cent faster than any other swimwear.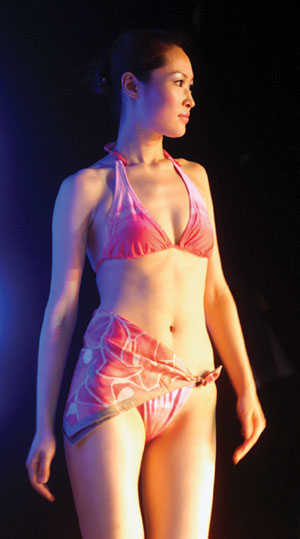 Another creation of Speedo released for Summer [file photo]

The new FSII swimwear more closely mimics the skin of a shark and contains a special material made of an alloy of titaniumwhich is knitted into the costume with a silicon crystalloid knitted into the chest and back.

The shark, notorious for its speed in the water but which is not naturally hydrodynamics, is the basis of the Fast Skin swimsuits. The shark's quickness is attributed to V-shaped ridges on its skin called dermal denticles, which decrease drag and turbulence around its body, allowing the surrounding water to pass over the shark more easily.

Due to the drag effect that occurs when an object travels through water, Fast Skin fabric was constructed with built-in ridges emulating sharkskin. Fast Skin is composed of "super stretch" fabric made to improve the suit's fit and to compress muscles. The result is a reduction of drag and muscle vibration, which increases speed through the water.

Since muscles work in groups, the Fast Skin suit aids in connecting muscles through a combination of panels and unique seaming. Speedo created an anatomic/dynamic pattern where the seams act like tendons and provide tension in the suit while the fabric panels act like muscles, stretching and returning to their original shape.

Seams are an essential element in minimizing drag and optimizing performance. Because the seams play such a vital role in allowing fabric to be stretched to maximum tension, which gives complete freedom of movement, the number of stitches is very high.

A Fast Skin swimsuit contains 22 stitches for every inch of seaming. Every inch has 52 inches of thread.