Beauty, however, comes at a price
(eastday.com)
Updated: 2004-07-22 09:07
The first thing you notice about Chen Qi (not her real name) are her beautiful eyes, fringed by luscious eyelashes that make her the envy of many women. Most dismiss her lashes as the result of the good genes, but the reality is that the 21-year-old performing arts student has had her lashes "done" - they are the result of eyelash transplant surgery.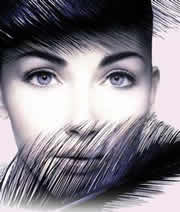 "My eyelashes were thin and dull," says Chen. "I felt less attractive than the other girls in my class. Even with mascara, my eyes didn't shine. And on hot days, mascara just melts, making you look like a panda. My goal is to become a professional performer, so the way I look really counts. And I am not alone. Some of my classmates have also had plastic surgery, fixing eyes and noses."
Beauty, however, comes at a price: in Chen's case, about 10,000 yuan (US$1,200). But according to eyelash transplant recipients, it is well worth the cost.
"I was losing my eyelashes because of age," says Zheng Yin, a 40-year-old Latin dancer. "But ever since my eyelash transplant, I have received more invitations to perform and I feel more self-confident in front of the audience."
Those who don't give a second thought to their eyelashes may wonder what all the fuss is about, but after all, if the eyes are the window to the soul, then the eyelashes are the window dressing.
Shanghai Time Plastic Surgery Hospital reports that they receive at least one inquiry a day. At Shanghai No. 9 People's Hospital, one of the nation's leading plastic surgery hospitals, Dr Liu Qing says that they perform several surgeries every day, and receive hundreds of calls for consultations.
Dr Li Guihai, who performs eyelash and hair transplant surgery at the Shanghai Time Plastic Surgery Hospital, explains that eyelash transplant surgery is microsurgical. Done under local anesthesia, the surgeon harvests a dozen or two hair follicles from the back of the head and implants them in the upper eyelid. The procedure, which is virtually painless, takes about two hours.
"Little recovery time is needed, but there is some mild swelling for a day or two. Then, the follicles grow like a plant seed, and long, permanent new eyelashes grow in," he says.
There is one minor disadvantage to transplanted eyelashes, however.
"Because the follicles that are transplanted are from the back of the scalp, they act like scalp hair they grow. So they definitely need to be trimmed," Li adds.
In addition to the normal risks of surgery - infection, excessive bleeding or scarring - Dr Liu says that the only real concern with eyelash transplants are that some of the individual hair follicles will not "take" in the new location.
Still, at 6,000 to 10,000 yuan a pop, not everyone who wants it can afford an eyelash transplant. There is an alternative: false eyelashes.
Jiang Weijun, 26, has them applied at her beauty salon for special occasions like formal photographs or parties.
"They last only about one month but look fine. Most important of all, they are cheap and affordable," she says.
False eyelash applications cost 100 yuan to 400 yuan and are quite popular. Eva Beauty Salon, for example, says that on average they have 10 customers for false lashes per day. Still, there are risks: When removing false lashes, the adhesive glue can rip out the natural lashes.
In Shanghai, plenty of people can afford plastic surgery nowadays, which is a direct result of China's economic boom, says Dr Pei Xi of the Shanghai Fuhua Medical Beauty Hospital.
Economic prosperity created an affluent class who have changed plastic surgery's original goal - the reconstruction of a damaged body - to an aesthetic business.
In the realm of plastic surgery, physicians are no longer passing down diagnoses like divine judgments, or even acting as gatekeepers, determining who undergoes surgery. Instead, they are skilled practitioners, selling their talents to those who apply.
Plastic surgery patients, too, are a different breed: These are not diseased bodies in search of cures. They have become informed consumers shopping for the best service at the best price.
Yet these informed consumers have also been informed by a changing standard for beauty.
Today, Western pop culture has exerted enormous influences on aesthetic standards, and beauty is judged by Western standards: Bigger eyes, longer lashes, sharper noses and slimmer faces are the ideal in China, and probably all over Asia.
In this youth-oriented culture, looking good means looking young, adds Pei.
For older women, cosmetic surgery is their only chance to find their fountain of youth, while it has become a rite of passage for teenage girls.
Today there are about 230 private cosmetic clinics in Shanghai, an increase of 130 since 2002.
The jump reflects the growth in the number of people seeking plastic surgery, which has increased at a 20-percent annual rate in recent years.
| | |
| --- | --- |
| | |
| People cool off in water | |

| | |
| --- | --- |
| | |
| Summer weight reduction camp | |

| | |
| --- | --- |
| | |
| Jay Chou's new album to be released | |
Today's Top News
Top Life News

Relief in sight for long-suffering passengers




Iraqi group threatens to behead new hostages




Flooding and droughts plague China, together




China refutes UK official's intervention in HK




High officials caught embezzling, taking bribes




Beijing tops costly cities for living on mainland