Iraqi group threatens to behead new hostages
(Agencies)
Updated: 2004-07-22 08:41
Militants took six foreign truck drivers hostage and threatened Wednesday to behead them unless their company ends its business in Iraq , and their countries - India, Egypt and Kenya - pull all their citizens out.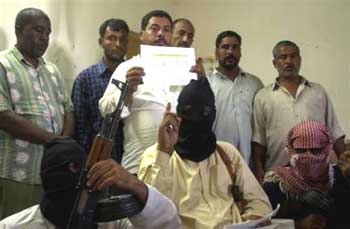 Three insurgents carrying automatic weapons stand in front of six hostages at an undisclosed location in Iraq on this picture handed to the Associated Press on Wednesday July 21, 2004. Militant group says it has taken six foreign truck drivers hostage and will behead them if their countries do not withdraw their forces. [AP]


The threat came two days after the Philippines withdrew its 51-troop contingent from Iraq, giving in to the demands of militants holding a Filipino truck driver. The driver, Angelo dela Cruz, was released Tuesday.

Militants also launched a rocket attack on a Baghdad hospital Wednesday, killing two people, and set off a car bomb in the capital that killed four.

In the city of Ramadi west of Baghdad, Marines engaged in an hours long gunbattle with insurgents; hospital officials said five Iraqis were killed, many when U.S. forces bombed a house. A roadside bomb north of Baghdad killed one U.S. 1st Infantry Division soldier early Wednesday, pushing the death toll of U.S. forces in Iraq to 900 since the start of the war.

The threat to behead the hostages - and separate warnings against Bulgarian, Polish and Japanese troops - is the latest development in a violent campaign to scare off foreigners, who play a vital role in supporting the new U.S.-backed government and in the reconstruction of Iraq.

Iraqi and U.S. officials had warned of a potential surge in threats and hostage-taking when the Philippines withdrew its troops.

A militant group calling itself "The Holders of the Black Banners," announced Wednesday it had taken two Kenyans, three Indians and an Egyptian hostage, and said it would behead a captive every 72 hours beginning Saturday night if their countries do not announce their intentions to withdraw troops and citizens from Iraq.

None of those countries is part of the 160,000-member U.S.-led coalition; however, interim Iraqi Prime Minister Iyad Allawi appealed last week to India and Egypt to send in troops.

"We have warned all the countries, companies, businessmen and truck drivers that those who deal with American cowboy occupiers will be targeted by the fires of the Mujahedeen," read a statement from the group that was obtained by The Associated Press. "Here you are once again transporting goods, weapons and military equipment that backs the U.S. Army."

In a separate threat, a previously unknown group calling itself al-Qaida's European branch posted a message on an Islamic Web site promising deadly attacks in Bulgaria and Poland if the two countries do not withdraw their troops from Iraq.

The group, calling itself the Tawhid Islamic Group, said Bulgaria and Poland will "pay the price" just as the United States and Spain did, referring to the Sept. 11, 2001, attacks on New York and Washington and deadly train explosions in Madrid in March of this year.

During a recent hostage crisis, Bulgaria refused demands to pull its 480 troops out of Iraq, and Polish Deputy Defense Minister Janusz Zemke said Wednesday that withdrawing troops would be a "terrible mistake" that would only encourage terrorism.

Another militant group on Tuesday threatened Japan's 500 troops here. A Japanese Foreign Ministry official said Wednesday that Tokyo would not comply.

More than 60 foreigners have been taken hostage in recent months in Iraq, where thousands of foreigners toil as contract workers for coalition forces, in crucial reconstruction jobs or as truck drivers hauling cargo for private companies.

The six foreigners threatened Wednesday were truck drivers working for a Kuwaiti company, the militants said. The group warned that every Kuwaiti company dealing with Americans "will be dealt with as an American."

In photos provided to AP, six of the hostages were shown standing behind three seated, masked gunmen. One of the hostages held a paper with the typed names of seven men - presumably six of them the hostages - their nationalities and other personal details. The paper was stamped July 20, and the words "Universal Services" were handwritten on top.

The names on the paper were Ibrahim Khamis, Salm Faiz Khamis, Jalal Awadh, all from Kenya; Antaryami, Tilak Raj, Sukdev Singh, all from India; and Mohammed Ali Sanad, from Egypt.

In a video broadcast on the Arab-language television station Al-Arabiya, a hostage identifying himself as Sanad called on his company to pull out of Iraq.

"They will chop off our heads," he said. "Who will feed my family, my brothers and sisters?"

Kenyan government spokesman Alfred Mutua said Kenya has no troops or companies in Iraq, but there were hundreds of Kenyans working for companies in Kuwait, United Arab Emirates and Saudi Arabia.




Today's Top News
Top World News

Relief in sight for long-suffering passengers




Iraqi group threatens to behead new hostages




Flooding and droughts plague China, together




China refutes UK official's intervention in HK




High officials caught embezzling, taking bribes




Beijing tops costly cities for living on mainland