Experts muse over museums
(China Daily)
Updated: 2004-07-22 08:36
"I Have A Dream." Martin Luther King, Jr.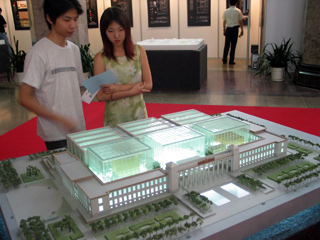 Two visitors to the National Museum of China view a design of the museum's new building to the east of the Tian'anmen Square. [China Daily]

The fact is, in everybody's heart, there is often a dream of some sort big or small, spoken or secret, some to be realized, some others well...

Chen Yu, 35, a local Beijinger and one of the youngest curators at the National Museum of China, has a dream. But his dream is of a different kind than the dreams most of us have.

"I have heard about the wonderful permanent display of artifacts of ancient Greece at the Metropolitan Museum of Art (in New York), but I have never had a chance to see it. I would really like to know how foreigners organize a large-scale exhibition like the one I am presently working on," Chen said, on the eve of the opening of the exhibition of ancient Greek artifacts he has worked so hard to bring to Beijing.

His exhibition will open today in the national museum on the east side of Tian'anmen Square. One of the most significant cultural events of this summer in the Chinese capital, it also comes at a special moment, with the 2004 Athens Olympics coming up in August having cranked up the Hellenistic appetites of millions of sports and culture lovers in China.

In spite of his relatively young age, this is not the first time Chen has organized a blockbuster show since he joined the museum in 1992. The 1999 exhibition on the Tibetan history and arts, for instance, is one of the earlier successes on his resume as a curator.

Chen's only regret is that, like most working professionals in Chinese museums, he has largely trained himself and has never received any formal professional training, let alone international training, in curating. "Things have changed. I believe it's necessary for us to learn from the practices of museums in developed countries," he told China Daily.

Chen is certainly not the first nor the only person to have realized the importance of international training in the museum field, with China facing a huge "museum boom" as it embraces the rest of the world with open arms.

New era of museums

Statistics indicate that China currently has more than 2,000 museums, with more than 20 million items in their collections and more than 8,000 exhibitions being staged every year.

To add to that number, the State Administration of Cultural Heritage, which is in charge of museums nationwide, is planning the construction of 1,000 new museums by the year 2015. By that time, every mid-size or larger city in China is expected to have at least one museum.

This "museum fever" in cosmopolitan cities such as Beijing and Shanghai has recently stimulated lively discussion in China and overseas.

Beijing is reportedly planning to build 20 more museums and have at least 130 museums by the time it hosts the 2008 Olympics. Among the major projects are the 1.8 billion yuan (US$217 million) expansion of the National Museum of China and construction of a new wing for the China National Art Museum. "Not to be outdone, Shanghai says it plans to build 100 new museums for the 2010 World Expo," according to an article published in the latest issue of "Art in America" magazine.

While many people are thrilled by the prospect of burgeoning of museums in the country, some experts have questioned the "imbalance between the hardware and software" - that is, too many museums and not enough trained personnel.

In their view, as the country becomes more financially developed, people are eager to build more museums. But who is going to do the work in all these modern facilities that will be seen as symbols of the national as well as local cultural heritage and an important element in shaping the country's international image?

"The quality of a museum's displays rests largely in the hands of its curatorial staff, regardless of the quality of its collection. Unfortunately, many of the staff members in our museums are not qualified to run a modern public museum," remarked Feng Yuan, the new director of the National Art Museum of China, who previously served as director of the arts department of the Chinese Ministry of Culture.

He said that the staff at the museum lags behind those of leading art museums abroad in terms of professional knowledge, familiarity with the arts and commitment to public service.

Museum training programmes and courses in China are not up to the standards seen in places like Europe or the United States, where training programmes in museum curatorial work and museum administration have been in place for a much longer time.

Only a handful of universities in China Peking, Nankai, and Fudan, to name a few have museum studies programmes. Archaeology or history programmes in most Chinese universities and art schools are research-oriented, with little consideration being given to museum curator training.

Programmes in curatorial studies, arts administration, and museum education are next to non-existent in the country. The internship system, which is widely used in Western museums and of great help in training museum professionals, has yet to be introduced in most Chinese museums.

With an eye focused on improving domestic training programmes, many Chinese museum professionals are turning their eyes to international resources and experience. "We can't expect our senior staff to change much," Feng said. "We do hope to send our young staff members to receive training in foreign museums or institutions, and we are recruiting more graduates with Master's or higher degrees. We want more well-trained young professionals who love their jobs."

International training

The good news is that some exciting foreign museum training programmes are already being planned or under way to help China build up a staff of qualified museum personnel.

Bruce Altshuler, director of the Museum Studies Programme at New York University (NYU), is one of the international experts who are enthusiastically working on such projects.

Since 2002, Altshuler, an authority in museum studies research and training in the United States, has made field trips to China and other countries in Asia and Europe to prepare for a summer institute at NYU. The project will bring together young museum professionals from Asia, Europe and the United States for three weeks of intensive training and exchange.

During his visit to China, Altshuler met many museum administrators, curators, and scholars in Beijing, Tianjin and Shanghai. He investigated three general areas of museum practice that he believes are "the main areas that need more professionalism:" fund-raising and marketing; educational programming; collections and exhibitions.

"I was very impressed by how proud people from Chinese museums are of what they have, how serious they are in studies and research, and how aware they are of international developments," Altshuler said. "They seem to be more confident in research, but not so confident in putting on exhibits for the public and communicating with the public.

"We hope the summer institute will open in 2006. Each summer, we would like to bring together 25 to 30 people," he said. He added that activities designed for the training programmes would include presentations by American museum professionals, working in teams to solve problems, visits to local museums in the New York area, and trips to cities like Washington DC and Philadelphia, which also have great museums.

"I think that with its scope, the programme will bring people together and give them a chance to exchange ideas," remarked Sarah Bradley, associate director of the New York-based Asian Cultural Council (ACC) an affiliate of the Rockefeller Brothers Fund, which sponsored Altshuler's field trip to China.

"The amount of training people can receive in a summer institute is very small, but these people are to come from different museums which operate in very different ways. It doesn't make any sense to learn only the American model. People should sit together and talk about how they solve similar problems, and they can take the ideas they get back to their different institutions," she added.

Collaborative endeavours

Beyond the Museum Studies Programme at NYU, which also offers a Master's degree, many other universities and institutions in the United States also have plans to work with China in training professionals in almost all museum-related disciplines.

Harvard University, for instance, has established the Courtney Sale Ross Arts in Education Scholarship to support Chinese professionals in graduate studies, aiming at fostering communication among cultural institutions (specifically museums) in the United States and China. Similarly, the Teachers College of Columbia University has increased collaboration with the Beijing-based Central Academy of Fine Arts in the fields of art museum education and arts administration.

Last year, the Central Academy of Fine Arts of China and the National Academy of Cultural Heritage of France opened a joint programme in Beijing to train senior administrators in Chinese museums. Last December, veteran scholars and professionals from both sides presented a series of seminars that were highly welcomed, according to Fan Di'an, professor and vice-president of the Central Academy.

Leading cultural institutions such as the Asia Society Museum in New York, the Smithsonian Institute in Washington DC and the British Museum in London are also interested in expanding co-operation with China.

"What we are witnessing today in China is the exponential growth of the museum sector, particularly in relation to contemporary art," remarked Melissa Chiu, director of the Asia Society Museum. She cited as examples the Shanghai Museum, the Shanghai Art Museum, the Guangdong Museum of Art, and the Millennium Museum in Beijing.

"The Asia Society Museum has a long history of working with Chinese institutions, especially for our traditional art exhibitions. We look forward to collaborating more with Chinese museums in the future to present the art of China, past and present," Chiu said.

The British Museum and the National Museum of China have reached an agreement to exchange professionals for short-term visits, according to Zhu Fenghan, executive director of the National Museum of China.

Like the ACC, which has been supporting US-China exchanges in the arts and museum sectors for decades, international foundations such as the Henry Luce Foundation, Andrew W. Mellon Foundation, Starr Foundation and the Paul Getty Trust all support exchanges and training in the museum sector.

When dreams come true

Zhu said the professionalism of staff in Chinese museums has improved remarkably in the past five or six years as a result of increased international exchanges and the excellent example set by local institutions such as the Shanghai Museum.

"Professionals at the National Museum of China now have more chances to communicate with their counterparts from the rest of the world. Most of them have travelled abroad. Their vision has been broadened while working with foreign museums."

Zhu added: "We want to offer the best exhibitions we can think of and afford to the public, and we are constantly learning from the world's leading museums. We do welcome the ideas of foreign institutions or foundations in staff training. And we welcome foreign professors and experts to come to train our staff in China."

Chen Yu hasn't yet managed to see the show at the Metropolitan Museum of Art. But he counts himself lucky anyway. In recent years, international exchange projects of his museum have allowed him to travel Paris once and to Greece twice, where he learned a lot from his European colleagues.

With a little more luck, his next stop might just be New York.

National Museum to be expanded

The central government of China is going to close the country's national museum for two and a half years to implement its plan to double the size of the museum before the 2008 Olympics.

The National Museum of China, which is located on the east side of Tian'anmen Square, was built in 10 months in 1958 and 1959 to celebrate the 10th anniversary of the founding of the People's Republic of China.

It will be enlarged from about 65,000 square metres to more than 150,000 square metres, with a total of 58,000 square metres of exhibition space.

The work will begin next summer and is expected to be completed at the end of 2007. The museum will be closed while the work is going on, said Zhu Fenghan, executive director of the museum.

The country's central government is footing the bill, which is expected to exceed 1.8 billion yuan (US$217 million). The design for the new museum will be chosen at the end of this month from the three under consideration in the final round of the bidding.

Insiders said all three designs were submissions from famous foreign architects.

The museum's present buildings, designed by renowned Chinese architect Zhang Kaiji, are to be renovated at the same time as the new ones are added to their east.

All three designs stress "public space," with easy access from the square so that visitors can take advantage of the museum.

"Visitors will be able to have coffee on the balconies of the museum as they enjoy the view of the Square, Tian'anmen Rostrum and the Forbidden City," said Gao Baodong, vice-general manager of the Beijing Gauging Consultants Co, the firm in charge of the expansion project.

The present system of having the staff place glasses of water in the exhibition cases will be replaced by a new state-of-the-art environmental control system that will maintain temperature and humidity levels in all the exhibition halls.

The new buildings will also include a cinema, rest areas and shops. There are no such facilities in the present museum.





| | |
| --- | --- |
| | |
| Swimwear for Athens Olympics debuts | |

| | |
| --- | --- |
| | |
| People cool off in water | |

| | |
| --- | --- |
| | |
| Summer weight reduction camp | |
Today's Top News
Top Life News

Relief in sight for long-suffering passengers




Iraqi group threatens to behead new hostages




Flooding and droughts plague China, together




China refutes UK official's intervention in HK




High officials caught embezzling, taking bribes




Beijing tops costly cities for living on mainland