US allies threatened in Iraq; Filipino heads home
(Agencies)
Updated: 2004-07-22 01:02
Groups purportedly linked to al Qaeda vowed to attack Japan, Poland and Bulgaria unless they withdrew from Iraq, the latest attempts to rattle the U.S.-led coalition after Manila pulled out its troops under pressure.
Japan, however, vowed on Wednesday to keep its 550 non-combat troops in place despite the threat.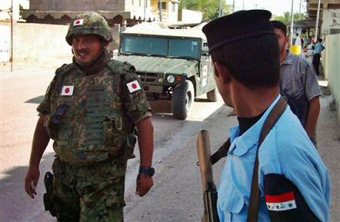 A Japanese soldier patrols the street along side an Iraqi police both bearing their respective flags on their arm, in the southern Iraqi city of Samawa, Tuesday July 2O, 2004. [AP]


"For the rebuilding of Iraq, we must continue our support and not give in to terrorism," Deputy Cabinet Secretary Masaaki Yamazaki told a news conference in Tokyo.

A different group claiming to be the European wing of al Qaeda warned Bulgaria and Poland of attack, the latest in a wave of warnings against U.S. allies in Iraq, where insurgency has raged since the invasion to oust Saddam Hussein last year.

"To the crusader Bulgarian government which supports the Americans, we ask you for the last time to withdraw Bulgarian forces from Iraq or we will turn Bulgaria into a bloodbath," said the statement.

"To Poland and the despicable Prime Minister Marek Belka, withdraw your forces from Iraq or you will hear explosions ripping through your country when we want," it added.

The authenticity of the statement could not be confirmed.

Poland has 2,400 troops around south central Iraq. Bulgaria has 455 troops in the same area.

Filipino truck driver Angelo de la Cruz was freed on Tuesday after being held for two weeks by militants who threatened to behead him unless the Philippine government withdrew its troops from Iraq.

Kidnappers freed the father of eight after the Philippines complied. He flew to Abu Dhabi on Wednesday to be reunited with his wife before heading home.

The United States, Australia and Iraq's interim government accused Manila of giving in to terrorists.

A statement posted on Tuesday on an Islamist Web site threatened attacks against Japan unless it followed the example of the Philippines and pulled its troops out. A later Internet message disowned the warning, however.

INTERNET WARNINGS

Yamazaki said Japan was checking the credibility of a statement purportedly from a group led by Islamic militant Abu Musab al-Zarqawi, but said its stance on Iraq remained unchanged.

Japan's troops are based in the southern Iraqi town of Samawa, a spot that has seen little of the kind of violence suffered by other parts of Iraq.

The United States has offered $25 million for the capture of Zarqawi, its top militant target in Iraq. He is blamed for masterminding a spate of kidnappings and bomb attacks.

The threat against Poland and Bulgaria came from a previously unheard-of group and was posted on a Web site not normally used by militants.

It said both countries would face attacks similar to the train bombings in Madrid in March and the Sept. 11, 2001, attacks on U.S. cities.

"We are waiting for information from other partner countries and have no confirmation that the terrorists are planning any concrete actions on Polish territory," Poland's Deputy Defense Minister Janusz Zemke said in response.

Washington insists its coalition remains strong despite the Philippines' decision to follow Spain, the Dominican Republic, Nicaragua and Honduras in pulling out of the country.

FEARS OF DEATH

Before he left Baghdad, De la Cruz, 46, said he had been well treated by his captors but feared he would die.

"At times I felt I may not return to my normal life," he said late on Tuesday. "But I received excellent treatment from them, they said I was a good person. That's why, I think, I was released."

A U.S. soldier died and six were wounded when a roadside bomb destroyed their Bradley fighting vehicle during a patrol early on Wednesday in Duluiya, about 40 miles north of Baghdad, a spokesman for the 1st Infantry Division said.

Two army soldiers and a marine were also killed in action in Iraq's Anbar province west of Baghdad in the past two days, another military spokesman said. The casualties were in addition to a marine reported killed on Tuesday in Anbar.

The deaths bring to at least 660 the number of U.S. troops killed in action in Iraq since the invasion in March 2003.

A wave of hostage taking has tested countries involved in Iraq. An American, a South Korean and a Bulgarian have been beheaded by a group led by Zarqawi. Hopes that a second Bulgarian hostage is still alive are fading.

A Turkish truck driver may have been the latest to be taken hostage, colleagues said on Monday.




Today's Top News
Top World News

Flooding and droughts drag on




Top concern for food safety




High officials caught embezzling, taking bribes




Beijing tops costly cities for living on mainland




Sino-US partnership protocol extended




New platform for scientific research