Flooding and droughts plague China, together
By Liang Chao (China Daily)
Updated: 2004-07-21 23:51
Most of North China's severe droughts have gone hand in hand with recent downpours except in parts of Inner Mongolia and Northwest China.
The death toll from this summer's flash floods has risen to 381 throughout China. Some 288, or 75 per cent, of those deaths were caused by mountain torrents, mudflows and landslides, authorities said.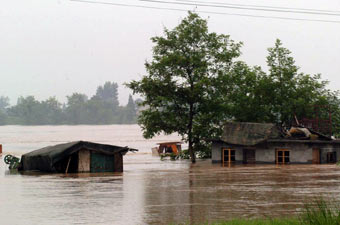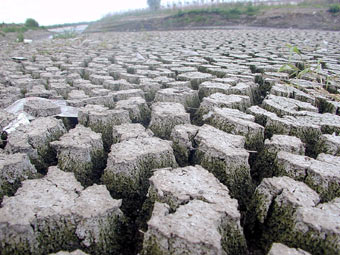 Flooding nearly submerged homes along the Yuanjiang River in Changde, Central China's Hunan Province Wednesday, where overflowing water along major rivers has affected some 2.6 million people. But in suburban Harbin, capital of Northeast China's Heilongjiang Province, part of the river bed of Songhuajiang River (right) has dried up after days of temperatures as high as 34 C in the northernmost province of China. [newsphoto]

By press time Wednesday, 98 people were still missing in the worst-hit areas while damage caused by the disasters amounted to 14.85 billion yuan (US$1.78 billion), according to statistics released early Wednesday by the State Flood-Control and Drought Relief Headquarters.

So far this week, floods, waterlogging and consequent geographical hazards have affected more than 45.7 million people across China, toppled 197,000 homes, inundated over 3 million hectares of crops with grain yields cut by at least 30 per cent in over half of them.

Premier Wen Jiabao urged local authorities to fight flooding and focus on preventing devastating weather-related hazards, promote relief work and guard against any possible outbreak of epidemic diseases in flood-stricken areas.

Over the past two days, downpours pounded South China's Guangxi Zhuang Autonomous Regions and Central China's Hunan and Hubei provinces along the rain-swollen Yangtze River.

Continuous rain has, since early this week, flooded nine counties and put 18 reservoirs at risk in Hunan, said local sources.

Nine counties were ravaged by torrential rain that hit the northwestern part of the province from Monday to Tuesday. Nearly 110,000 people were forced to move to higher ground, they said.

By Tuesday, the water levels in Yuanshui River valley, the middle and reaches of Zishui River and Dongting Lake had all passed the danger line.

More than 200 hydrological stations in the province reported rain. Sixty-five were hit by more than 50 millimeters of rain between Monday and Tuesday, 22 had more than 100 millimeters and two had more than 200 millimetres.

Also on Tuesday, two people were killed and three others seriously injured in a landslide and mudflow in an ethnic area in Southwest China's Yunnan Province.

Meanwhile, 53 people were reported missing after a landslide and a consequent mudflow in Yingjiang County of the Dai-Jingpo Autonomous Prefecture of Dehong.

The mudflow washed away 49 people at the Lushan, Zhidong and Nongpo villages on Tuesday morning.

Most of this summer's death toll has resulted from geographic hazards and disasters connected to the weather, experts say.

By Tuesday, 107 people had died as a result of weather patterns like fog, lightning and hail. Another 408 were injured throughout China, said Zhang Guocai, an official for China Meteorological Administration (CMA), during a news conference Wednesday.

Precipitation recorded in Central and South China has, since June, been 20 to 50 per cent higher than average, Zhang said. Rainfall even exceeded 600 millimetres in parts of Guangxi, Hubei and Hunan.

Major rainfalls are now heading to North and Northeast China and may bring about precipitation ranging from 30 to 60 millimetres and as high as 120 millimetres in a few of areas, Zhang predicted.

In August, rainfalls will also be higher than average in parts of North, Northeast China and areas upstream the Yellow River, Zhang said, warning "more disastrous flooding or waterlogging are likely to occur."

Three typhoons will hit China next month.

"More attention has to be paid to flooding and waterlogging triggered by intensive downpours accompanied by typhoons," Zhang said.




Today's Top News
Top China News

Flooding and droughts plague China, together




Top concern for food safety




High officials caught embezzling, taking bribes




Beijing tops costly cities for living on mainland




Sino-US partnership protocol extended




New platform for scientific research