'Man-made beauty' loses suit against pageant organizer
(Xinhua)
Updated: 2004-07-21 17:33
A Beijing court has rejected a lawsuit filed by a "man-made beauty" against a pageant organizer for barring her from a beauty contest after learning that she hadspent 110,000 yuan (13,250 US dollars) on cosmetic surgery.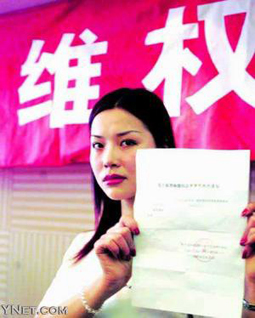 Yang Yuan filed a lawsuit against a beauty pageant committee for being refused of the competition as a man-made beauty. [file photo]

The Beijing Dongcheng District People's Court ruled on Tuesdaythat the plaintiff, 18-year-old model Yang Yuan, did not have adequate grounds for suing Beijing Tianjiu Weiye Culture and Media Company, a beauty pageant organizer, for infringing upon her rights and dignity.

Whether a person's rights and dignity have been trampled mustbe judged according to objective facts and consequences, not theperson's feelings, said the court.

The court also rejected Yang's request for a public apology and 50,000 yuan (6,024 US dollars) in compensation from the defendant for her emotional damages.

In May, 2004, Yang applied for the Miss Beijing competition ofthe 2004 Miss Intercontinental Competition. She passed the firstand second rounds, but when she was preparing for the final round, she received a notice from the organizer saying her candidacy had been revoked because she was a "man-made beauty."

Yang said the company had infringed upon her legal rights by rejecting her and using the biased term, "man-made beauty." Besides, the girl argued, the organizer did not ban those who had cosmetic surgery from applying for the competition in the first place.

The organizer argued that the wording it had used was neutral and that the aim of the pageant was to promote natural beauty.The Beijing Dongcheng District People's Court opened a courtsession to hear the case at the end of June.

The court held that "man-made beauty" was a widely accepted phrase that was frequently used by Chinese media. By using theterm, the organizer did not deprecate the plaintiff, it said. Besides, as the organizer of the event, the defendant was responsible for the impartiality and good order of the competition, the court said. Whether the plaintiff was qualified to participate in the contest is irrelevant to the present suit, which was lodged for rights infringement, the court said.

The plaintiff and the pageant organizer were not available forcomments.




| | |
| --- | --- |
| | |
| People cool off in water | |

| | |
| --- | --- |
| | |
| Summer weight reduction camp | |

| | |
| --- | --- |
| | |
| Jay Chou's new album to be released | |
Today's Top News
Top Life News

Iraqi group threatens to behead 6 new hostages




Flooding and droughts plague China, together




China refutes UK official's intervention in HK




High officials caught embezzling, taking bribes




Beijing tops costly cities for living on mainland




Top concern for food safety