China spills Zhou Enlai secret
(Agencies)
Updated: 2004-07-21 10:45
China has declassified a second batch of diplomatic files on 5,024 items, including the mid-air bombing of Air-India's Kashmir Princess in 1955 in an apparent attempt to assassinate then Premier Zhou Enlai.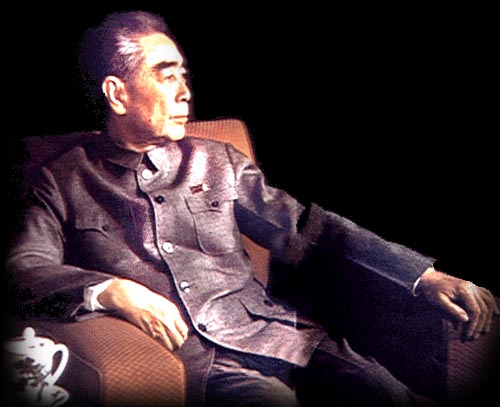 Zhou Enlai: A close shave in 1955 [file photo]

The second batch of files, mainly on China's diplomacy between 1949 and 1955, is related to telegrams between China and other Asian countries on recognising each other, establishment of diplomatic relations and sending ambassadors.

Among other documents, the files include material about the Kashmir Princess, the official Xinhua news agency reported.

On the night of April 11, 1955, the chartered Air-India flight was carrying Chinese and east European delegates, mainly journalists, from Hong Kong to Indonesia to attend the Asia-Afro Bandung conference. At about 18,000 feet, a time bomb detonated in the wheel bay of the plane, blowing a hole in the fuel tank. The flight engineer, the navigator and the first officer escaped. The remaining 16 passengers, including seven Chinese cadre and crewmembers, died.

Zhou, who was the main target, did not board the plane. His travel plans had been kept secret. The former premier did not leave China until April 14 when he flew to Rangoon to meet then Indian Prime Minister Jawaharlal Nehru and Burmese leader U Nu before going to Bandung.

The secrecy that surrounded Zhou's travel plans saved his life and doomed the Kashmir Princess. The same plane was scheduled to fly to Rangoon to pick up Zhou for his trip to Indonesia.

China declassified for the first time a batch of diplomatic files in January this year.

More declassified files will be opened in batches and by stages, its foreign ministry said.

An official with the ministry's archives said China will open the remaining over 2,000 diplomatic files from 1949-1955 at the proper time, and some of the files from 1956-1960 will be opened in late 2005 or early 2006.

According to China's archive law and relevant regulations, historical files should be open to the public 30 years after their creation.




| | |
| --- | --- |
| | |
| People cool off in water | |

| | |
| --- | --- |
| | |
| Summer weight reduction camp | |

| | |
| --- | --- |
| | |
| Jay Chou's new album to be released | |
Today's Top News
Top Life News

Iraqi group threatens to behead 6 new hostages




Flooding and droughts plague China, together




China refutes UK official's intervention in HK




High officials caught embezzling, taking bribes




Beijing tops costly cities for living on mainland




Top concern for food safety