China squad targets 20-plus Olympic golds
By Yu Yilei (China Daily)
Updated: 2004-07-20 22:26
China is sending its largest and youngest Olympic delegation ever to the 2004 Athens Games next month, signalling an early warning that it could be a dominant force at the 2008 Beijing Olympics with experience it reaps in Greece.
Some 407 Chinese athletes will participate in more than 200 events in 26 sports at the Athens Games, sports officials said Tuesday. The only two sports China will miss are equestrian events and baseball.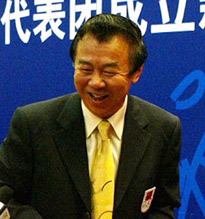 Yuan Weimin, head of the Chinese Olympic delegation to Athens, appears confident of his team. [newsphoto]

Combined with 226 officials, the Chinese contingent will reach 633. That number is relatively enormous compared with past Olympics -- China sent 279 athletes to compete in 24 sports four years ago at Sydney.

Women athletes continue to play a key part of the Chinese team, accounting for 269 of the total 407 competitors.

But for the Chinese squad, it is not only size but age that matters.

Unlike China's previous habit of sending veterans to ensure the team's medal chances, Chinese officials are heavily favouring younger athletes this time around. The team's average age is 23.3, down 0.5 from the figure at the Sydney Games.

"We really want to take the opportunity provided by the Athens Games to let more young Chinese athlete participate in additional events so that we can accumulate more experience for the Beijing Games,'' said Li Furong, vice-chief-de-mission.

There will be 323 athletes making their debut at the Olympic Games, or 80 per cent of the total number.

Competitors chosen for the Olympic squad even caused disputes among Chinese sports fans.

"We have rigid rules to ensure choosing the best for the squad but we also put the 2008 Olympics into consideration,'' Li said.

That may explain why some noted sports stars like world badminton champion Xia Xuanze and world and Olympic diving champion Li Na did not make it onto the list.

"I am so glad to see such a young team,'' said Wang Yifu, a 43-year-old sharpshooter and the oldest member of the team who is going to participate in his six Olympics to gun for his second Olympic gold.

"I feel it is really normal to have so many young athletes in the Olympic delegation because it is they who are going to shake the sporting world,'' he said.

"I do not know how the older athletes thought about me when I was young, but now I am really excited to see so many promising young athletes now.''

On the opposite side, Zhang Tianyi, a female swimmer in the medley, is the youngest participant at the age of 14.

Officials said there are 1,200 athletes reserved for the 2008 Games besides the hopefuls on the Athens squad.

"We already have 1,941 athletes in our sights who are possible participants for the 2008 Games,'' said Li.

Despite sending a young team, China is gunning for at least 20 gold medals so that it can be among nations like Russia and the United States, traditional sporting powers.

China finished third in the medal standings four years ago in Sydney with 28 golds, 16 silvers and 15 bronzes, behind the United States and Russia.

But the officials said equalling the Sydney success will be a tough task.

"We did more than the best we have ever done four years ago in Sydney and it is difficult to duplicate that,'' Li said. "I think 20 or more is reasonable for us.''




Today's Top News
Top China News

Nations team up on arms control




China squad targets 20-plus Olympic golds




Floods kill eight, affect millions




Energy shortfall to persist




Death toll drops in work incidents




Overseas Chinese help modernization