Filipino hostage freed after troops leave
(Agencies)
Updated: 2004-07-20 17:17
A Filipino truck driver held hostage in Iraq was freed and handed over to the United Arab Emirates embassy in Baghdad Tuesday, an Emirates official said.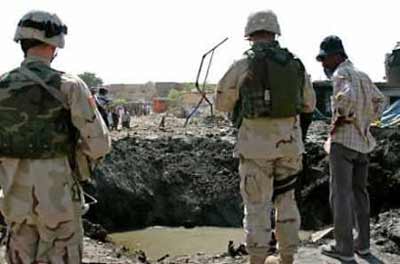 U.S. Army troops and an Iraqi man view a massive crater left after a suspected car bomb blew up outside a police station in south western Baghdad July 19, 2004. The bomb killed at least nine people, wounded dozens and left tangled wreckage of burned out cars and destroyed buildings.
"He has been handed over and we will hand him over to the Philippine authorities," the official said.
Manila ignored criticism from the United States and Iraq's interim government, which accused it of bowing to terrorists, and completed the withdrawal of its humanitarian contingent of troops Monday in response to demands from the kidnappers.
The Philippine ambassador in Baghdad could not be reached, and a source at the embassy said he had heard nothing.
Militants threatening to behead Angelo de la Cruz had set a July 20 deadline for Philippine troops to leave Iraq.
Kidnappers have seized dozens of foreigners since April to press demands for foreign troops to leave Iraq, to deter foreigners from working with U.S. forces or to extract ransoms.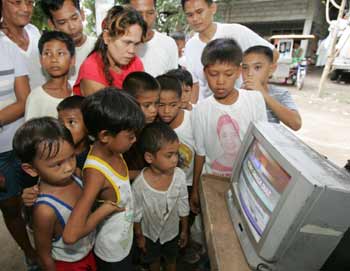 Relatives of kidnapped Filipino truck driver Angelo de la Cruz, held hostage in Iraq by militants, monitor television news to hear confirmation of his release in Buenavista village in northern Philippines' Pampanga province July 20, 2004. De la Cruz was freed and handed over to the United Arab Emirates embassy in Baghdad on Tuesday, an Emirates official said. [Reuters]
Many hostages have been freed, including an Egyptian released Monday, but at least four have been killed. An American and a South Korean were beheaded by a group led by Jordanian militant Abu Musab al-Zarqawi, accused by Washington of having links to Osama bin Laden's al Qaeda.
Egypian freed
Egyptian driver Mohammed al-Gharabawi was freed after the Saudi firm he worked for met kidnappers' demands by promising to stop doing work in Iraq.
"In the beginning, in the first few days, I was threatened," Gharabawi said at the Egyptian embassy in Baghdad late on Monday. "It was a real threat to me; they were shouting at me and pushing me with guns."
A group led by Zarqawi seized two Bulgarians earlier this month and sent video footage to Al Jazeera television showing one of them being beheaded. Hopes that the second is alive are fading.
A Turk may also have been taken hostage in Iraq, colleagues said Monday.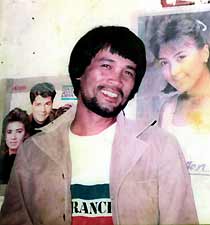 Filipino truck driver Angelo de la Cruz is seen in this undated handout file photo. [Reuters]

Zarqawi, whose group has also claimed responsibility for many of the deadliest bombings in Iraq, is the U.S. military's prime target in the country, with a $25 million price on his head.

The hostage-taking has tested the will of several countries and added to the burden on the interim government, struggling with a renewed burst of suicide car bomb attacks and assassinations of senior officials.

A member of the regional council of Basra, Iraq's second biggest city, and two bodyguards were assassinated Tuesday, a council spokesman said.

He said Hazim Tawfiq al-Anachi was shot dead at a checkpoint in the southern Iraqi city.

"At the checkpoint, there were some people wearing police uniforms who asked the driver to stop. Then they opened fire," the spokesman said, adding that one man in the car was wounded.

A suicide bomber blew up a fuel truck near a Baghdad police station Monday, killing at least nine people and wounding 62.

The bombing was the latest of at least five suicide attacks over the past week aimed at Iraqi police, National Guard or senior members of Iraq's new government, which have killed more than 35 Iraqis in a seemingly accelerated campaign.

Insurgents often target the police and the National Guard, accusing them of collaborating with the U.S. military.




Today's Top News
Top World News

AFC official apologizes for tirade of misunderstanding




Filipino hostage freed after troops leave




800,000 more Chinese live in poverty in 2003




Intense flood strain builds up




Green policies vital for healthy development




100 foreign banks now offer RMB services