Bush's daughters step out in vogue
(Agencies)
Updated: 2004-07-19 14:06
After years of evading the limelight, Jenna and Barbara Bush have finally accepted their status as political scions. The twins put on the ritz in Vogue's latest issue.
For four years, they shunned the public spotlight. No more.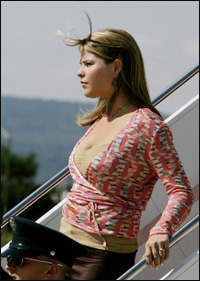 Jenna, who now holds an English literature degree from the University of Texas, wants to live with a friend in Manhattan while teaching at a charter school. [AP]

Barbara and Jenna Bush, now 22-year-old college graduates, have leapt into the fashion limelight as stars of a Vogue magazine spread that hit newsstands yesterday. In the spread, they publicly embrace their status as scions of political royalty.

Jenna, draped in a strapless, cranberry-coloured Oscar de la Renta gown, poses with a half-grin and shows off a Harry Winston bracelet.

Barbara, on the opposite page, flashes a movie star smile and wears a strapless, champagne-coloured Calvin Klein gown.

They are accessorised with an array of borrowed diamonds. The dresses are classic designs - styles that a designer would keep on hand in the showroom but would not bother to put on the runway.

The spread, headlined Sister Act, was shot in May. It comes as they dip their toes ever so gradually into their father's re-election campaign.

'It's not like he called me up and asked me,' Jenna told Vogue, explaining how she decided to help her father after a lifetime of steering clear of politics.

'They've never wanted to throw us into that world, and I think our decision probably shocked them. But I love my Dad, and I think I'd regret it if I didn't do this.'

The University of Texas graduate made her first campaign trail appearance last Friday, joining President George W. Bush on a bus tour of central Pennsylvania. Barbara made her campaign debut two days ago, accompanying her father on a trip to Michigan and Minnesota.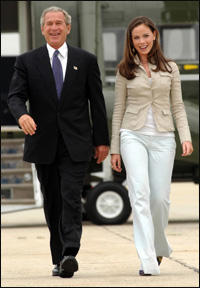 Barbara, the Yale graduate, eventually hopes to work with African children afflicted with Aids. [AP]

Both women, fresh from post-graduation European vacations, already have plans for life after the campaign.

Jenna wants to live with a friend in Manhattan while teaching at a charter school. Barbara, a Yale graduate, will work with paediatric Aids patients in Eastern Europe and Africa.

The Vogue article is mostly a glowing take on the twins' coming of age, noting that: 'Until now, they've been best known for their inevitable but sparse tabloid appearances and the much-mentioned reports of their 2001 run-in with the law for underage drinking.'

In that incident, at a Mexican restaurant in Austin, Texas, police accused Barbara of being a minor in possession of alcohol and Jenna of misrepresenting her age by trying to use false identification to buy alcohol, according to a statement from the Austin Police Department.

Jenna was ultimately fined, while Barbara completed community service and had her record wiped clean.

The magazine offers a full page picture of Barbara and Jenna dressed up for a night out with clothes that are a bit more form-fitting than the gowns.

And the piece captures the two joking with each other - and with the once zealously protective first lady, who told reporters that her daughters were not public figures.

'Mum,' Jenna asked, as she and Barbara reluctantly tried on a variety of poofy formal gowns in a New York City hotel room the night before the photo shoot, 'do we look like cupcakes?'

'Yes,' replied Mrs Bush, 'you do.'

White House and campaign officials said on Tuesday that the Vogue interview and the appearances on the campaign trail were decisions made entirely by the twins - but that the officials were pleased with the results.

'The president and Mrs Bush think that their daughters look great in the photo shoot and thought it was a great interview,' said a spokesman for Mrs Bush.

Political experts and campaign strategists believe the appearances by the daughters can only help soften their father's image.

The president told Vogue that he was 'most excited' to spend the last campaign of his life 'with two girls I love'. On Tuesday, he pointed Barbara out in a crowd in Duluth, Minnesota, declaring to his daughter: 'I love that you're here, darling. Thanks for coming.'

Accepting the limelight now puts the first twins on more even footing with some of their famous cousins.

Cousin George P. Bush has campaigned for his father, Florida Governor Jeb Bush, and for his uncle, the president. Cousin Lauren Bush is a model.

Mr Doug Wead, a former adviser to the Bush family who has written a book on presidential children, said the Vogue spread shows the twins have finally grown up and into their place in the political world.

'Barbara was voted most likely to appear on the cover of Vogue when she was in high school, so, hey, dreams are coming true,' he said.

That may be. But while the twins get seven pages in the magazine, the cover went to actress Priscilla Presley, her daughter Lisa Marie Presley and Lisa Marie's daughter.




| | |
| --- | --- |
| | |
| Sharon Stone in Rolling Stone | |

| | |
| --- | --- |
| | |
| Three generations of Presley women | |

| | |
| --- | --- |
| | |
| Karen Mok represents cosmetic products | |
Today's Top News
Top Life News

China opposes US congress' resolution on Taiwan




Predicted rains signal flood, mud slide alarm




Zarqawi group puts bounty on Iraqi PM's head




Expert: Economy not overheated in all areas




Grain supply deficit remains




Videotape shows American's decapitation