Rita Fan takes on direct election
By Joseph Li (China Daily)
Updated: 2004-07-19 10:53
Legislative Council (LegCo) former President Rita Fan began her election campaign Sunday in a spectacular manner amid cheers from her family members and more than 300 supporters.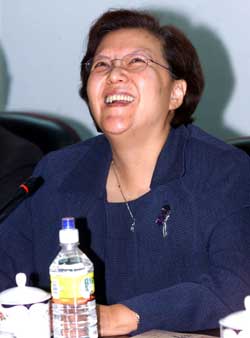 Rita Fan talks to Shanghai students in this August 11, 2001 file photo. [newsphoto]

She will take on a direct election for the first time in her political career, competing on Hong Kong island, a hotly-contested geographical stomping ground.

Her rivals include the heads of the Democratic Party and the Democratic Alliance for Betterment of Hong Kong, as well as Audrey Eu, "voting queen" of the 2000 by-election.

"It is my wish to take part in a direct election once in a lifetime, and I hope very much that the people would tell me if I should stay on," she said.

"I will try my very best and will not care too much about winning or losing," she told an election rally.

As president of the legislature for the past seven years, she has seldom revealed her stances on sensitive issues. But yesterday she talked at great length on many topics.

Current political parties are not mature enough to provide talented people to become ruling parties, she acknowledged , although this can be achieved in eight years' time.

In this regard, she suggested an amendment to allow the chief executive to come from a political party, and the enactment of a law on political parties.

Advantages are that the chief executive could master good political skills and enlist solid support from members of a party in the Legislative Council.

In the short run, since the government does not have enough votes in the Legislative Council, it must accept the reality of sharing power with legislators in policy formulation.

As to Article 23 legislation, she reckons there is a need to make laws to protect national security, but it is also necessary to strike a balance for peoples' rights.




Today's Top News
Top China News

China opposes US congress' resolution on Taiwan




Predicted rains signal flood, mud slide alarm




Zarqawi group puts bounty on Iraqi PM's head




Expert: Economy not overheated in all areas




Grain supply deficit remains




Videotape shows American's decapitation