Predicted rains signal flood, mud slide alarm
By Jiang Zhuqing (China Daily)
Updated: 2004-07-19 08:41
Heavy rain or thunderstorm are forecast to sweep over most parts of China Monday, raising new alarms for possible flooding, mud-rock flows and landslides, meteorologists said on Sunday.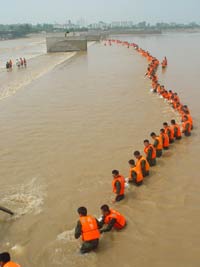 Armed police line up to reinforce a dam on the Baihe River in Nanyang, Central China's Henan Province using stones and bags Sunday, July 18, 2004. Floods and sunken dredgers driven down the river against the dam are endangering the dam after heavy storms over the weekend. [newsphoto]

The rain belt should move over most parts of Northeast China, the Huaihe and Yellow river areas, the Hanshui River and parts of Yunnan-Guizhou Plateau, said Yang Keming, a senior engineer with the Central Meteorological Observatory.

"Thunderstorms or torrential rains will pour down onto some parts of these areas with strong gusts," Yang said.

During the past weekends, most parts of North China, including Beijing, Tianjin and the provinces of Hebei, Henan, Shanxi and East China's Shandong, have received torrential rains and thunderstorms. Parts of the western regions, like Gansu Province, Chongqing Municipality and Guizhou Province, were also included, reports said.

Officials hope the rainfall will relieve the heat and drought in most parts of the northwestern Xinjiang Uygur Autonomous Region that had been lingering for a week.

Meteorologists warned that the consecutive days of rainfall has made some of the rivers and reservoirs both in north and in south reach their limits and residents in these regions are urged to pay close attention to possible flooding.

Meanwhile, some parts of the south, like the drainage area of the Huaihe and Hanshui rivers and south of the Yangtze River, will become hot and dry and see temperatures rise to over 35 C in the next 10 days, reports said.

The Central Meteorological Observatory said the ninth typhoon this year, Kompasu, had weakened to a tropical storm in South China's Guangdong Province by Friday night and would have no more influence on the country.

The State Flood Control and Drought Relief Headquarters said nearly 7,700 local residents had been moved from two areas over the weekend used to divert flood water when floods hit two tributaries of the Huaihe River after days of heavy rain.

No casualties have been reported during the mass relocation, which was carried out in Henan Province in Central China.

Over the past week, storms have wreaked havoc across China, which battles summer floods every year along waterways such as the Yangtze, Yellow rivers and other waterways.

On Saturday, about 3,000 passengers had to remain in the Beijing West Railway Station after a dozen trains were delayed due to the heavy rain in Heze, Shandong Province. All the trains were bound to southern cities along the Beijing-Kowloon Railway, reports said.

From Friday to the past weekend, rains and thunderstorms hit areas between the Yellow River and Huaihe River, resulting in big floods on the Shaying and Hongru rivers, two tributaries of the Huaihe River.

To ensure the safety of the Beijing-Guangzhou Railway and cities downstream, the Henan Provincial Flood Control and Drought Relief Headquarters decided to open gates to divert floodwater into two flood diversion areas.

The two designated areas can hold 407 million cubic metres of diverted floodwater and have a combined population of 174,500 people.

More than 89,000 people have rushed to the front line to fight against the floods and the State Flood Control and Drought Relief Headquarters has dispatched a working group to the spot for direction.

The storms have dumped more than 43 centimetres of water over Central China, forcing 6,000 people to evacuate their homes.

Rain had lashed the area around the city of Luohe in Henan Province, about 750 kilometres of Beijing, for several days, pushing local river levels to record highs and triggering flood-prevention measures by the government.

No injuries or deaths had been reported, but 64,000 people had been affected, and more than 100,000 soldiers and residents were scrambling to brace against the torrents.

Some 34 centimetres of rain had pounded the area on Friday alone, causing the Li and Lesser Honghe rivers to overflow their banks in some places.

On Friday, a tropical storm that hit Hong Kong with winds of up to 40 mph injured two people and shut down one of Asia's top financial centres, reports said.

In another development, floods are threatening wide tracts of the remote Tibetan Plateau after rainfall in some areas hit record highs. More than 31,000 people in 34 counties in Tibet have been affected by flooding.

Recent storms have caused at least three deaths in the region, a plateau standing more than 4,000 metres high and known as the Roof of the World.




Today's Top News
Top China News

China opposes US congress' resolution on Taiwan




Predicted rains signal flood, mud slide alarm




Expert: Economy not overheated in all areas




Grain supply deficit remains




Videotape shows American's decapitation




New law to stimulate foreign trade