Grain supply deficit remains
By Fu Jing (China Daily)
Updated: 2004-07-19 08:32
China is still facing a relatively large-scale grain deficit this year despite a bumper summer harvest and a possible increased rice yield, a senior official said.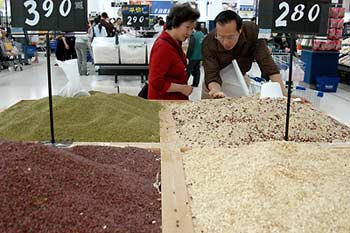 Customers check the quality of bulk foods at a supermarket in Nanjing, capital of Jiangsu Province. [newsphoto]
A grain deficit of 37.5 million tons remains, Chen Xiwen, deputy director of the Office of Central Financial Work Leading Group, said over the weekend.
Chen said China is sure to end its consecutive decline in grain yields for the year.
His prediction is based on a wheat yield this summer that has reached 101 million tons, a 4.8 per cent year-on-year increase. Meanwhile, the rice yield is also expected to rise as planting coverage has been expanded by 533,000 hectares this year compared to last year.
"We can meet the target of producing 455 million tons of grain this year but we have no reason to feel relaxed because a deficit remains," said Chen on Saturday at the opening ceremony of the China Food Security Research Centre.
The centre, at the Beijing-based China Agricultural University, will focus on research into strategy and policy for national food security.
Chen said this year is expected to become a key year to recover grain production and to avert the detrimental reverse in the supply-demand relationship.
China's production of wheat, corn, rice and other food grains dipped from a record high of 512 million tons in 1998 to 431 million tons last year.
Chen, also a renowned agricultural economist, said he has been deeply immersed in urging China's top leadership make strong efforts in developing agriculture.
After consulting with economists, experts and high-ranking officials, Premier Wen Jiabao listed developing agriculture by every possible means as the "first task" of his cabinet when he planned 10 priorities for the next half of this year.
Wen said the government will continue to focus its efforts on agriculture, and reiterated plans to strengthen China's grain production capacity by urging local governments to conscientiously subsidize grain producers.
At the beginning of this year, the government decided to spend a record 150 billion yuan (US$18 billion) to encourage farmers to increase grain production, to improve rural infrastructure and ensure the country's food security this year.
To drive home a sense of urgency, tough measures were implemented to check the disorderly and unauthorized acquisition of farm lands, said Lin Yueqin, a researcher with the Chinese Academy of Social Sciences, in an interview with China Daily.
"The reduction of farm lands contributed to the decline of grain output for the previous years," said Lin.
Farm land totalled 123.4 million hectares by the end of last year, dropping 6.7 million hectares since 1996, figures from the Ministry of Land and Resources indicate.
Lin said the government should continue to implement preferential policies to make growing grain as attractive as possible for farmers.
He said major agriculture policies include lowering agriculture taxes, giving subsidies directly to grain growers and setting minimum purchasing prices for staple grain products.

Today's Top News
Top China News

China opposes US congress' resolution on Taiwan




Predicted rains signal flood, mud slide alarm




Zarqawi group puts bounty on Iraqi PM's head




Expert: Economy not overheated in all areas




Grain supply deficit remains




Videotape shows American's decapitation