Videotape shows American's decapitation
(Agencies)
Updated: 2004-07-18 11:05
Images of an American hostage being decapitated surfaced Saturday on an Internet site known for carrying the statements of Islamic militants.
The gruesome videotape appeared three days after U.S. authorities announced the search for the body of Paul M. Johnson Jr. had been called off.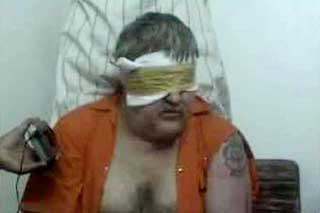 A search by U.S. and Saudi authorities for the body of the beheaded American hostage, Paul Johnson, is drawing to a close after experts failed to find his remains, the U.S. embassy said on Thursday. This image posted on an Islamic website on June 15, 2004 shows a blindfolded Paul Johnson being held in Saudi Arabia. [Reuters]

Still photographs of Johnson's beheading had been posted June 19 on some of the same militant Islamic forums that on Saturday provided links to the newly released video footage.

Johnson, a 49-year-old engineer for U.S. defense contractor Lockheed Martin, was kidnapped June 12.

The video, which ran almost two minutes and included images of tanks and destroyed homes apparently in Iraq, carried the title "The Voice of Jihad: Get the infidels out of the Arabian Peninsula."

Voice of Jihad is the name of a periodical issued on the Internet twice monthly by the al-Qaida cell in Saudi Arabia, which claimed Johnson's killing.

A man, his head wrapped in a red and white checkered headscarf and his face not visible, is seen using a knife to decapitate Johnson, who was lying face down on a mattress.

The man held up Johnson's head for the camera then placed it on the body. One of the killers wiped blood off the knife on the orange jumpsuit Johnson was wearing.

Hours after the still photographs were released last month, Saudi security forces shot dead Abdul Aziz al-Moqrin, the leader of the al-Qaida cell in the kingdom.

On Wednesday, U.S. ambassador to Saudi Arabia, James C. Oberwetter, released a statement saying the FBI's search for Johnson's remains was near completion without the body being recovered.

FBI experts sent to the kingdom to help with the search began leaving and, a day later, the U.S. State Department confirmed the search had ended.

Johnson's son in Florida, Paul Johnson III, 28, was pressing U.S. officials to do more to find his father's body.

Since May last year, Saudi Arabia has suffered a series of terrorist attacks, including suicide bombings, gunbattles and kidnappings.

Many attacks have targeted foreign workers in an attempt to undermine the economy, which depends heavily on expatriate labor. Al-Qaida, led by Saudi dissident Osama bin Laden, aspires to topple the Saudi royal family and replace it with an Islamic government.




Today's Top News
Top World News

China's textile sector greets US quota decision




New law to stimulate foreign trade




War targets online porn websites in China




Iraqi justice minister escapes car bomb




Six Nobel winners named top science gurus




China to launch research station in Arctic