China bans selective abortion to fix imbalance
(Agencies)
Updated: 2004-07-16 09:43
China will strictly ban selective abortion of female foetuses in an attempt to reverse a gender imbalance in the ratio of newborn boys to girls, official said Thursday.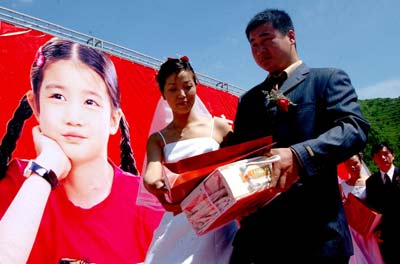 Newly-married couples receive gifts during the May 21 launch ceremony for the "Care for Girls" project. Jointly launched by the Beijing Population and Family Planning Commission and the local government of Beijing's Changping District, the project is aimed at promoting equality between girls and boys among parents-to-be and create a favourable enviroment for girls' personal development. [newsphoto]
In China 117 boys are born for every 100 girls, according to the latest statistics, the Xinhua news agency said. A normal newborn sex ratio is 103-107 boys for 100 girls.
Senior family planning official Zhao Baige said the government plans to reverse the imbalance by 2010 by banning sex-selective abortion and launching campaigns to end the tradition of valuing boys more than girls.
"Any individual or medical organisation offering illegal sex-selective abortion services will take legal responsibility," Zhao said.
Zhao blamed the imbalance on the traditional preference for boys, which remains strong in the countryside despite campaigns emphasising sex equality, and a poor rural social security system which forces people to become dependent on their children in old age.
Zhao's commission is undertaking a national "Care for Girls" project to educate people to give up their traditional preference for male children.
Additionally, parents who have two girls, as well as one-child parents and those with a disabled child, will be given 1,200 yuan (US$144) by the central government annually when they reached 60 years old in some rural pilot project areas.
The pilot project is expected to be spread to all of China next year.
This project will also help China to set up a comprehensive social assurance system for helping one-child families better look after parents in an aging society.
According to statistics in 2000, China has 88.3 million people over 65, who account for 7 per cent of the total population.
In Chinese rural areas, the majority of the old parents still depend on support from their children instead of an unestablished national social assurance system.
President Hu Jintao earlier this year said that bringing China's newborn sex ratio back to a normal level had become one of the country's important goals in the coming 10 years, Xinhua said.
The arrival of new technologies, especially ultrasound scanning, has made it possible for Chinese couples to know the sex of their unborn baby and, in many cases, have an abortion if it was a girl.
Only seven provinces and regions have a normal newborn sex ratio, namely Inner Mongolia, Heilongjiang, Guizhou, Tibet, Ningxia, Qinghai and Xinjiang, which are mostly home to ethnic minorities.
The other 24 provinces, regions and municipalities all have a sex ratio of more than 110 boys to 100 girls.
The gender imbalance has led to warnings that millions of Chinese men will be unable to find partners in coming decades and led to a major problem with trafficking in women and children.
Today's Top News
Top China News

China supports to expand UN Security Council properly




Meeting challenges of a huge population




Wanted: Home-made cartoon blockbusters




Teflon-coated pans barred from shelves




Gangsters laundering money face tougher law




Beijing man sues Nike over copyright