Stolen children returned to parents
By Zheng Caixiong (China Daily)
Updated: 2004-07-16 01:28
Nine children who once were abducted and sold were returned to their parents in Dongguan, South China's Guangdong Province, Thursday.
The abductees -- between two and six years old -- were identified by DNA tests before they were returned to their parents.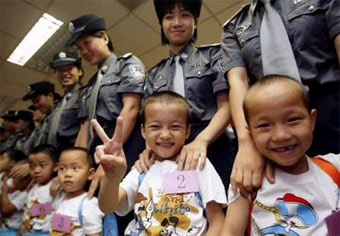 One of the nine abducted Chinese children flashes a victory sign after they were freed by the police and reunited with their families at a police station in Dongguan, Guangdong Province, July 15, 2004. Local police saved nine children during an operation to bust three criminal syndicates abducting and selling children in the southern province of Guangdong. [Reuters]


Some of the children had been separated from their parents for as long as four yours and had changed hands more than twice before they were rescued by police,Liu Ancheng, director of the Criminal Investigation Department at the Guangdong Provincial Bureau of Public Security, said yesterday.

Most of the children had been stolen from migrant workers who had come from outside Guangdong Province.

Liu said such parents usually are not aware they should be especially wary of such criminal behaviour.

Addressing a news conference, Liu said the nine children returned yesterday represent just a small number of children abducted and sold in the southern Chinese province.

Guangdong police have handled 68 such abduction case sin the province from 2002 through June this year, Liu said.

"More than 130 abductees have been rescued in the wake of uncovered cases," Liu added.

Many kids were sold to farmers in the eastern and western parts of Guangdong Province at prices ranging from 1,000 yuan (US$120) to 9,500 yuan (US$1,100) each.

Most of the cases in Shenzhen, Dongguan, Zhongshan, Jiangmen and Heyuan, all prosperous cities in the Pearl River Delta, were cracked.

Liu believes several gangs that were focused on trafficking and selling children and women in Guangdong Province have been broken up after special campaigns to crack down on such crimes in the past few years. Such gangs used to be active in the prosperous province. Officials now say the area's child abducting and selling activities have basically been brought under control after great efforts.

"To fight trafficking and selling children and women has been the key task of Guangdong police in recent years," Liu said.

Last October, Shenzhen police smashed the biggest child trafficking ring ever uncovered in this special economic zone, rescuing 18 abductees. Six suspects were detained.

And on June 1, Dongguan police also smashed a big child abducting gang, rescuing 11 victims and detaining 11 members of the gang.

Police are still busy investigating the case after the gang was found to have abducted and sold at least 50 children in the city since the beginning of the year.




Today's Top News
Top China News

China supports to expand UN Security Council properly




Meeting challenges of a huge population




Wanted: Home-made cartoon blockbusters




Teflon-coated pans barred from shelves




Gangsters laundering money face tougher law




Stolen children returned to parents