China backs UN Security Council expansion
(Xinhua)
Updated: 2004-07-15 21:09
Chinese Foreign Ministry spokeswoman Zhang Qiyue said Thursday that China advocates to expand the United Nations Security Council "at appropriate time and with appropriate means."
Zhang said after 60 years of development and changes since the United Nations was founded, the members states of the United Nations have greatly increased.
China believes it is necessary for the United Nations to have some reforms and the UN Security Council to properly expand, she said.
But the expansion should proceed through broad discussions and consultations of all of the UN members, she added.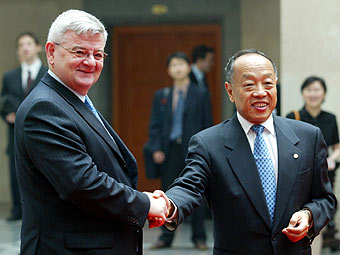 Visiting German Vice-Chancellor and Foreign Minister Joschka Fischer shakes hands with Chinese Foreign Minister Li Zhaoxing Thursday in Beijing. [newsphoto]


In response to a question on whether China supports Germany to attain the status of the permanent member of the UN Security Council, Zhang said Germany plays an important role in Europe and the world at large so China hopes to see Germany play bigger role in the international arena.

The UN Secretary-General Kofi Annan set up a panel of important leaders to deal with UN reform in November, 2003. Former Chinese Vice-Premier Qian Qichen was among the members of the panel.

Zhang said China supports the work of the panel and has kept in touch with other UN members on the UN reform.

On the European Union's weapons embargo to China, Zhang reiterated the embargo is a product of the Cold War so it is obsolete and detrimental to the growth of the Sino-EU comprehensive and strategic partnership.

"China hopes the EU members to have serious study on the issue and lift the embargo at an early date," she said.




Today's Top News
Top China News

Economy grows 9.7% in the first half of the year




China backs UN Security Council expansion




China bans selective abortion to fix imbalance




Wanted: Home-made cartoon blockbusters




Teflon-coated pans barred from shelves




Gangsters laundering money face tougher law