Debate erupts over Xiushui demolition
By Jie Zi (China Daily)
Updated: 2004-07-15 09:40
In addition to the Forbidden City and the Great Wall, there is another must-see for foreign visitors to Beijing - Xiushui Street, an outdoor market famous for its unique collection of garments.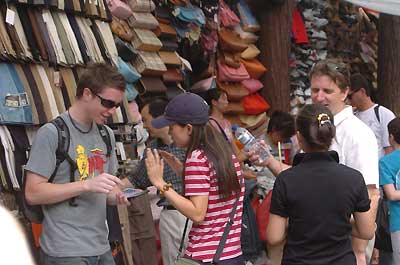 Foreign buyers bargin with vendors at Xiushui Street in Beijing, July 14, 2004. Demolition of the market has stirred up public debate. A public hearing on the issue will be held today in Beijing. [newsphoto]

Located southeast of Beijing's embassy area near Ritan Park, the street draws crowds of up to 10,000 foreign and domestic bargain hunters every day, while visitors may exceed 20,000 at weekends.

But its fate has been under a cloud since the municipal government decided the narrow thoroughfare, with more than 400 stalls along a 500-metre-long and three-metre-wide street, was a fire risk.

Sources with the Beijing Chaoyang District Government revealed that the open market will be demolished and moved to an indoor site, a building of eight storeys that can accommodate 1,500 stalls.

So far, an exact date for the demolition has not been set, as the issue of dismantling the market or not has stirred up controversy and dispute among the public.

A public hearing is to be held today. Government officials, experts and six vendors from Xiushui Street will attend the hearing.

"After more than two decades of development, Xiushui Street has become one of the famous landmarks of Beijing," said Li Guo, vice-governor of Chaoyang District.

Official statistics show that the market alone has annual sales of more than 100 million yuan (US$12 million).

The monthly rental of the stalls in Xiushui is around 4,000 yuan (US$482) a square metre, compared with 2,000 yuan (US$241) in the Beijing Oriental Plaza, a hub of domestic and foreign famous brands' flagship stores.

"We agree that it is a pity to dismantle the market, but renovation must be on an urgent agenda considering safety issues," said Li.

A new building named New Xiushui is under construction to replace the old outdoor market. It attracted attention because of a skyrocketing auction prices - 4 million yuan (US$480,000) for a five-square-metre stall - at a public auction on June 21.

A total of 10 stalls went under the auctioneer's gavel, all of them selling in little more than an hour.

Like the stall with the spectacular price, others also far exceeded the real estate developer's expectations.

Four booths hit more than 2 million yuan (US$240,000). The cheapest of the 10 went for 1.3 million yuan (US$157,000).

The auction attracted more than 300 business people, a third of whom were from the Xiushui Market.

According to Ji Wei, general manager of the New Xiushui's developing company, the auction was only to test the value of the well-known Xiushui Market and the steep prices reflected the value of Xiushui as a brand.

The majority of the vendors in the outdoor Xiushui do not think they can afford such high rentals.

"I cannot imagine how the vendors in the New Xiushui will get profits, if all the stalls there are so expensive," said Zhang Yang, who has been operating three stalls in Xiushui for more than 10 years.

According to Zhang's calculation, the owner of the 4-million-yuan (US$480,000) stall should spend 16 years to reclaim the investment, if a vendor agrees to hand in 20,000 yuan (US$241) every month as rental.

"However, in my experience, it is impossible to earn more than 20,000 yuan (US$241) a month with a 5-square-metre stall in the face of serious competition from the commercial sector," said Zhang.

Furthermore, Zhang said he was worried that the shopping atmosphere, a specific characteristic attractive to visitors, would be changed in the New Xiushui.

Mike Pauze, a US visitor, said that the most interesting thing in the Xiushui Market is bargaining and outdoor shopping.

"I enjoy the special atmosphere in the open market. If it just becomes an indoor shopping mansion, just the same as other large department stores, why should I still come here?" he said.




Today's Top News
Top China News

Premier warns of economic pitfalls




Warning sounded on possible floods




Most polluted cities in China blacklisted




Annual trade fair kicks off in Guangzhou




Agreement ends first complaint at WTO




Debate erupts over Xiushui demolition