More bid farewell to Three Gorges
By Liang Chao (China Daily)
Updated: 2004-07-15 01:49
Effective use of funds
By the end of last year, the central government had put up 41 billion yuan (US$4.9 billion) for the resettlement programme.
Almost 40 per cent of government investment in the Three Gorges Project has gone into the resettlement programme.
The funds have so far helped provide more than 27 million square metres of housing for more than 803,056 resettled farmers.
Over the past 10 years, more than 200 local resettlement officials have been punished for embezzling resettlement funds, an act that Zhu Rongji, former premier of the State Council, described as grabbing "a high-voltage transmission line," according to Chinese media.
The Three Gorges Project Construction Committee now pays special attention to management of the fund and it now says that the number of such cases has been dropping with each passing year.
The per capita living space for resettled residents now stands at 48 square metres, and annual net income at 2,340 yuan (US$282), People's Daily quoted a sample survey carried out this year in 228 relocated villages as saying.
In 2002, reports from the Chongqing Resettlement Bureau said income for those resettled in rural areas was only 1,918 yuan (US$231) a year, although the figure was said to have been increasing at an annual average rate of 5.4 per cent since 1996.
Although up-to-date official statistics are not yet available, the annual per capita net income of Chongqing's resettled rural residents, the most disadvantaged group of the relocated population, is still below last year's national average.
These figures, overall, seem to indicate that the resettlement plan is being carried out smoothly.
But analysts believe that the real challenge will not come until the major transfers of population get under way.
They say that it will be some time before we know whether or not the massive resettlement programme necessitated by the Three Gorges project, which started in 1993, has, indeed, been successful.
Massive exodus
Of the 800,000 already resettled, not all are living as well as the government had expected.
The government hopes the "local residents can be resettled in an organized way and helped to live a well-off life" during the 17-year construction project.
But there is still a great deal that has to be done is the project is to be completed successfully.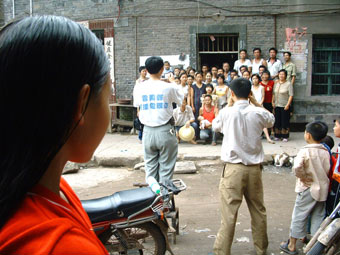 Residents in Nanxi Town of Chongqing's Yunyang County gather for a group photo before departing for Dongtai of Jiangsu Province to begin their new life. [newsphoto]

In rural areas, life for those moved to mountains slopes 40 to 50 metres above their inundated farmland is not easy because of the poor soil fertility in their new locations.

In urban areas, employment remains a major issue for a large number of laid-off workers from enterprises closed as a result of the raising of the water level in the reservoir.

And, there are new urban migrants who used to be farmers but became city dwellers after their farmland were taken away from them to reconstruct towns and small cities inundated.

In the entire reservoir area, the number of farmers who have become migrants as a result of urban expansion and reconstruction has reached to about 7,000 people.

Helping these displaced farmer migrants find work is a problem for resettlement authorities because they have no skills other than farming.

So far, it has not been easy to maintain a stable living standard for the disadvantaged groups of the resettled, according to sources close to the Three Gorges Project Construction Committee.

Under the overall resettlement programme, a total of 405,000 rural people from the reservoir area, including Chongqing and parts of Hubei Province, have to be resettled on farms.

As for the resettled farmers, their income is likely to drop in the years to come, either because they don't have enough land or because of the relative infertility of their new land.

Many experts agree that it is urgent that ways be found to improve the productivity of their newland to help farmers improve their income.

On the other hand, jobs must be created for the 135,000 laid-off workers.

Needy groups

Solutions to help the disadvantaged groups among the resettled are under way.

Resettlement authorities have pledged that four key strategies will be carried out for this purpose, including developing tourism on inland rivers; strengthening specialized industries such as energy, food processing and the production of traditional Chinese medicines and biological pharmaceuticals; and promoting industries connected with the production of quality farm produce, as well as developing shipping services and logistics.

The major effective way to help the rural resettled who moved onto steep land to improve their incomes is to develop highly-efficient ecological agriculture.

It is estimated that 160,000 jobs could be created for these farmers by developing another 33,000 hectares of orange orchards, to augment the current 164,600 hectares.

More than 160,000 jobs can be created by developing aquatic products, stock raising and breeding or tourism for urban and rural resettled populations in the years ahead.

Authorities believed that developing stock raising can help 20 per cent of the total rural resettled.

So far, they said, a plan to boost regional tourism has been worked out with the help of the China National Tourism Agency and six other ministries.

To help laid-off workers, they hope a number of the country's brand enterprises can be introduced into the reservoir area to hire more local workers.

Authorities in Chongqing have also vowed to vigorously expand labour services, offering training and the development of a service-based economy in the reservoir area, as well as helping some of the resettled find jobs outside the reserve area.

The jobless needy urban families, they said, can be brought into local government relief programmes with their basic living standards ensured by the minimum living allowance.

In Wangzhou, for example, two-thirds of its existing 50,000 urban poor receiving a living allowance are laid-off workers from inundated enterprises, said Wu Zhenglong, chief official of Wangzhou, the largest district of Chongqing.





Today's Top News
Top China News

Premier warns of economic pitfalls




Warning sounded on possible floods




Annual trade fair kicks off in Guangzhou




Most polluted cities in China blacklisted




Sino-US relations improving: diplomat




Agreement ends first complaint at WTO