Warning sounded on possible floods
By Liang Chao (China Daily)
Updated: 2004-07-15 00:08
Authorities throughout China are preparing for this summer's flood season amidst a rising death toll and forecasts of possible deluges along more rivers.
Natural calamities in China have already claimed 555 lives and caused 28.52 billion yuan (about US$3.4 billion) in damages this year, according to statistics revealed on Tuesday by the Ministry of Civil Affairs.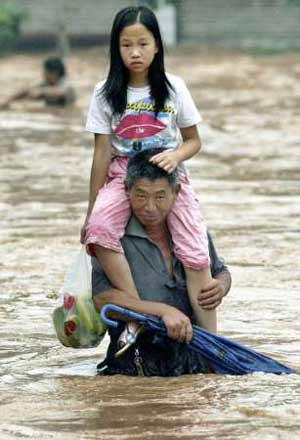 A Chinese father and daughter wade through floodwaters in Jintang County, Chengdu, Southwest China's Sichuan Province, June 29, 2004.[Reuters]

Floods, drought, earthquakes, snow, landslides and mudslides have caused huge damage, the ministry said.

Floods alone have affected 1.87 million hectares of crops, including 235,300 hectares that were totally ravaged. They have also killed 296 people and forced 412,000 people to relocate.

Disasters in total have affected 14.55 million hectares of crops and 1 million hectares will have nothing to harvest.

In addition, 269,000 houses have been toppled and 630,000 people have to be relocated from disaster-ravaged areas.

Heavy rainstorms have hit many areas, mostly in the south, three times as a rain belt lingered last week.

The rain belt will head north in the days to come, according to the latest monitoring issued Wednesday by meteorological authority.

"Intense and persistent rainfalls are likely to increase in eastern parts of Northwest China, the mid-south of North China, areas along the Hanshui River Valley or places between the Yellow and the Huaihe rivers," a report from China Meteorological Administration (CMA) said.

The rainfall will become even more intense as of today, forecasts said, adding it may last for a week in some areas.

"Flood-control situation of North China's rivers will thus become critical as most of them are now entering their major flood season," said CMA, warning "new floods are likely to occur at any moment as of today."

In the next 10 days, 25 to 50 millimetres of precipitation are forecasted for the above areas with the maximum to reach 90 millimetres.

Qin Dahe, top official of CMA, ordered his meteorologists to stick to their posts and cancel all unnecessary trips or conferences and try their best to monitor the season's changing weather.

Forecasts and plans to deal with urban waterlogging, like what Beijing experienced last week, should also be further improved, Qin added.

CMA will work with flood-control authorities to closely watch the moving rain belt and its consequent impact on China's major rivers like the Yangtze and the Yellow rivers, Qin said.

To hold up the season's upcoming flood water upstream of the Yangtze River, the water level at the Three Gorges reservoir was said to have been lowered by 4 metres at Yichang, the dam site of the project in Hubei Province.

This, experts believed, can hold 2 billion cubic metres of flood water upstream and reduce flooding downstream.

As of Wendesday, a flood with a crest of 37,100 cubic metres of water per second was recorded on the Xijiang River, pushing the water level up 3.6 metres over the warning mark at Wuzhou hydrometric station in South China's Guangxi Zhuang Autonomous Region due to heavy rainfalls.

"No damage or casualties were caused during the flood peak thanks to the preparations of Wuzhou," a key flood-control city where more than 90 per cent of the rivers in Guangxi flow through, experts for the Beijing-based State Flood-Control and Drought Relief Headquarters said.

In neighbouring Guangdong, a heavy storm that struck Guangzhou, capital of the province, caused chaos in the busy downtown areas on Tuesday. Many streets in the business centres were flooded.




Today's Top News
Top China News

Premier: Economy generally good, but has pitfalls




Warning sounded on possible floods




Most polluted cities in China blacklisted




Police crack decade-old murder case in Xi'an




US$29b deals signed on 1st day of PPRD fair




Agreement ends first complaint at WTO