Yao Ming: 18-year-old Yi is 'better than me'
(China Daily)
Updated: 2004-07-14 06:47
China's up-and-coming centre Yi Jianlian is quickly becoming the nation's basketball sensation.
In fact, NBA superstar Yao Ming says Yi could soon outstrip him as the country's best player.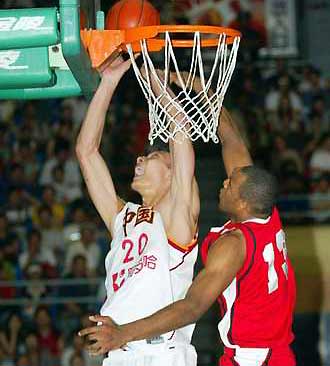 Yi Jianlian (left), the 18-year-old, is touted by Yao Ming as China's next basketball superstar. [Xinhua]


"I'm not talking nonsense, I think that Little Yi will one day be better than me," Yao told China Soccer News on Tuesday.

"Look at his build, his jumping ability, I don't have that at all. If he can continue to develop in the right way, he will be able to surpass my achievements," he said.

The NBA all-star centre from the Houston Rockets added: "Little Yi, he will rise, without a doubt."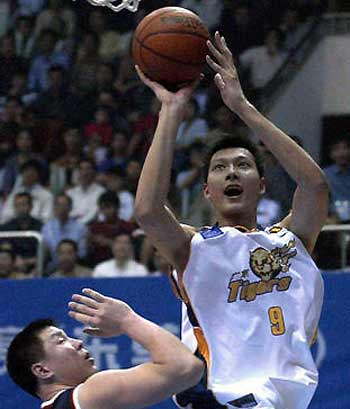 Yi shoots.[Xinhua/file]


Eighteen-year-old Yi, who has played sparingly for the China Basketball Association champion Guangdong Tigers over the past two years, has blossomed since joining the national side this May ahead of the Athens Olympics.

During the just-completed Four Nations tournament against Canada, Brazil and Croatia, Yi surprised fans with his play, averaging just under nine points and three blocks a game in limited minutes.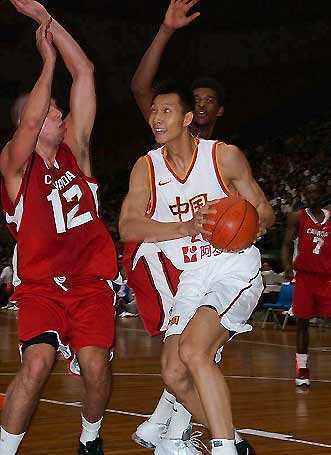 Yi scored 15 points against Canada last Friday.[Xinhua/file]


He scored 15 points against Canada on Friday in a game Yao missed because of injury.

He has emerged from under the tutelage of new China head coach Del Harris, an assistant for the NBA Dallas Mavericks, and assistant coach Jonas Kazlauskas from Lithuania, who have worked on his game during the past months.

"The support that Yao Ming needs most is first of all another explosive player who can play under the basket, secondly, someone else who can accurately shoot the mid-range jump shot and third, someone who can get back on defense when Yao can't," Kazlauskas told the paper.

"Yi Jianlian can do all three of these things; he has them all.

"The only problem is that he is still too young, he is thin and immature and his technical ability is rough. But all of these can be developed."

Kazlauskas has worked with legendary Lithuanian centre Arvydas Sabonis and current Lithuanian centre Zydrunas Ilgauskas, who plays for the NBA's Cleveland Cavaliers.

Harris said Yi will play alongside Yao during the Olympics, sharing time with China's other NBA veteran Menk Bateer and power forwards Mo Ke and Du Feng.

"He will definitely be playing with Yao. He is definitely going to play. He is an outstanding player," Harris said.

Yao's agent, Eric Zhang, also praised Yi, saying he was a definite prospect for the NBA.

"My feeling is that if Yi Jianlian had entered into this year's (NBA) draft, which was a rather weak draft, he could have been picked among the first three," Zhang told the paper.




Today's Top News
Top Sports News

US$33.9 billion of FDI settle in China in first half year




China: Lee's Taiwan visit damages relations




95 arrested for trafficking 76 babies




US plans tough English test for immigrants




Disaster insurance scheme sought




Bin Laden confidant surrenders to Saudis