Dongshan set for military exercise
By Bao Daozu (China Daily)
Updated: 2004-07-13 00:46
On Dongshan Island, 160 kilometres from Xiamen and 277 kilometres from Penghu Islands, there is a so-called "widow village" -- Tongbo Village. Most of the villagers are women, whose husbands were forcibly taken to Taiwan by the Kuomintang military in 1950. From that time on the villagers have been waiting for the return of their relatives from Taiwan.
Huang Zhenguo, a 54-year-old farmer, is a legend in the village. He began writing letters for the illiterate widows to their Taiwan relatives in the 1960s.
"All my villagers' relatives in Taiwan expressed in their letters of reply that peaceful reunification of Taiwan and the mainland would be realized at an early date," Huang said.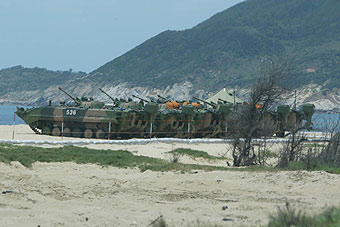 A team of amphibious tanks stand on the beach at Dongshan Island. The Ministry of Foreign Affairs has confirmed that a large-scale military exercise will be launched in later this month. To date, eight military exercises have been held on the island, which is 277 kilometres from Taiwan's Penghu Islands. [newsphoto]

Separated from their Taiwan relatives for decades, many villagers hate the war that separated their families half a century ago, Huang said.

"But if and when Taiwan authorities declare independence, we will support armed reunification," Huang said, expressing his support of the mainland's determination to fight against Taiwan independence forces, only a few days before the launch of a large-scale military exercise scheduled for later this month on the island.

Hilly and surrounded by water, the landscapes of the two islands, Dongshan and Taiwan, are quite similar.

Like the western coast of Taiwan, Dongshan Island has a fairly straight coastline and a gently sloping seashore, which is very suitable for military landing.

Due to its important strategic location, Dongshan has a long history of being contested for by military strategists since ancient times.

In the first years following the founding of the People's Republic of China, the People's Liberation Army (PLA) fought off attacks by the remnants of the Kuomintang army several times on Dongshan Island.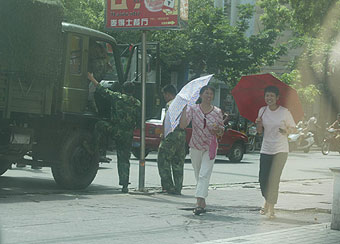 Residents of Dongshan Island walk past a military vehicle in a street Monday, July 12, 2004. [newsphoto]

Since 1996, the PLA has held a total of eight military exercises on the island.

PLA manoeuvres on Dongshan Island are mostly focused on joint beach landing drills by various arms of the military and are conducted almost every year, differing only in scale. The "Liberation No 1" exercise conducted in 2001 was the largest joint exercise of the three services (army, navy and air force) ever conducted, employing the most sophisticated equipment. Nearly 100,000 troops took part in the four-month exercise.

However, the lives of the 202,000 local residents were not disrupted, as outsiders might imagine.

In local markets, food prices changed little before the end of June. Although they saw a rapid increase in the range of 50 per cent in early July, a local resident told China Daily that prices returned to normal.

An official with the local government who wished to remain anonymous said that every time there is going to be an exercise, the local government purchases necessities from neighbouring cities to ensure an adequate market supply on the island, in order to not to disrupt the life of the island residents.





Today's Top News
Top China News

Dongshan military drill to unveil




Foreign trade soars back in the black




China expects first ever farmer protection law




Power shortage: Industries to shift hours




Chemical on DuPont pans to be tested




Agreements inked with Myanmar