Sudden storm hits Beijing hard
By Guo Nei (China Daily)
Updated: 2004-07-12 08:34
Beijing was almost back to normal Sunday after a sudden storm Saturday collapsed five houses, injured three people, caused dozens of traffic jams and pushed its drainage system to the limit.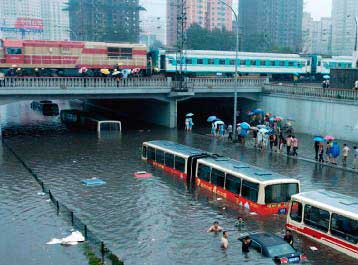 Several vehicles are trapped in a waterlogged street under the Locus Bridge of downtown Beijing, July 10, 2004. A sudden strong rainstorm hit China's capital city on Saturday afternoon and caused traffic problems at downtown areas. The storm brought over 42 mm rainfall to the downtown places within one hour and in the western part of the city the rainfall was more than 25 mm. [Xinhua]
Some 55 pumps attached to pedestrian bridges in Beijing began working at full capacity Saturday night while more than 600 workers drained drainage systems, said a Beijing Water Bureau official.
The heavy, sudden storm flooded parts of the city, leaving people, homes and cars underwater. By Sunday, most of the city was back to normal despite intermittent drizzles.
Still, authorities kept their guard up after the National Meteorological Centre forecast moderate rains in the following days. All the pumps on pedestrian bridges will be ready to go 24 hours a day and workers are on call.
Saturday's rainstorm toppled 59 trees and flooded 4,698 houses.
Three people were injured but are not in life threatening condition. They were hurt by a wire pole which fell in Xicheng District.
At 137 spots throughout the city rainwater pooled and caused traffic jams or brought life to a standstill for residents, said sources with the city's anti-flood and drought headquarters.
Meanwhile, the Beijing Production Safety Bureau ordered all construction be stopped during the rainfall and shut down workshops and small enterprises with hidden dangers. By Sunday, no reports of production accidents were received.
The thunderstorm started at 4:00 pm and continued for about 3 hours. An average of 70 mm of rain fell on urban areas. The strongest fall was in suburban areas of Fangshan, Daxing and Huairou. The maximum downpour of 106 mm fell on Tiananmen Square.
Speaking on condition of anonymity, an official from the Beijing Water Bureau said that central Beijing was the hardest-hit area, and the rain may hit a five-year record based on the initial data collection.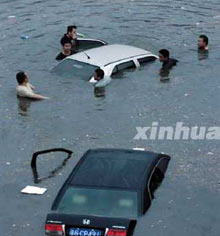 Drivers have to get off their vehicles which are trapped in a flooded street under the Lotus Bridge of downtown Beijing, July 10, 2004. [Xinhua]

"The strong rain was somewhat sudden. We have seldom seen such a strong rain in recent years," she said.

The official said a conference was held yesterday afternoon to figure out problems in the city's drainage system. She gave no more details but said a long-term plan has been drawn.

Meteorologists said rainfall in the city was below average in the days leading up to the storm.

As of 2:00 pm yesterday, the reservoir in Huairou District had 53 mm of rainfall, adding 1.5 million cubic metres water. Wang Jiayuan Reservoir in Changping received 40 mm of rainfall, said Su Nianqing, an official with Beijing anti-flood and drought headquarters.

On the other side of the coin, the rain did little to help water-starved Guanting and Miyun reservoirs, both major water sources for Beijing. The majority of rainfall fell on southern parts of the city while the two reservoirs are located north of Beijing, an area still suffering a severe water shortage.

Meanwhile, continuing heavy rainstorms also hit South China's Guangxi Zhuang Autonomous Region, Southwest China's Yunnan and Guizhou provinces, and Harbin, capital of Northeast China's Heilongjiang Province over the weekend.

According to anti-flood and drought headquarters office of Guangxi, from July 9, the rainstorm brought about 320 mm of rainfall to Qinzhou, and 150 mm to Fangchenggang.

More than 500,000 people were threatened by the flood, 220 houses were destroyed in the region, which is reported to have caused about 90 million yuan (US$11 million) in economic losses.

In Guizhou, five counties and about 10,000 hectares of fields were flooded, which brought about 10 million yuan (US$ 1.2 million), the Flood Control and Drought Relief Headquarters of Guizhou Province said.

In Yunnan Province, the rainstorm in Dehong killed 18, and left 26 missing, said a local official source.

According to the National Meteorological Centre heavy rains are expected in Yunnan, Guizhou, Guangxi, Guangdong, Hunan, Hubei, Anhui, Jiangsu, Shandong, Hebei, Liaoning and Jilin until Wednesday.

The average rainfall will be 20 to 60 mm and some regions will see between 70 to 100 mm or more.




Today's Top News
Top China News

China opposes Singapore deputy PM's Taiwan visit




Sudden storm hits Beijing hard




Voters in Japan deal a setback to Koizumi




Freeze extended on demolishing firms




Power cuts put many business in bind




Corrupt officials to be prosecuted