Harsh compensation plan still up in air
By Wang Yu (China Business Weekly )
Updated: 2004-07-11 10:15
As air travel becomes more and more frequent, flight delays are unavoidable. But compensation associated with man-made delays in air travel does not come easily in China.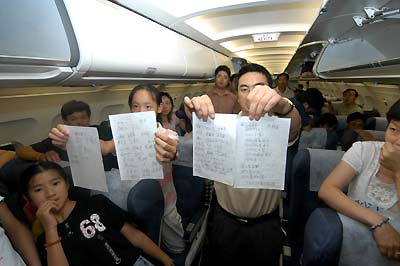 Passengers sign their names on a protest letter asking the China Eastern Airlines to compensate as their flight was delayed by seven hours, July 10, 2004. [newsphoto]
The General Administration of Civil Aviation of China (CAAC), the industry watchdog, last week released a harshly worded service direction, claiming that airlines would face heavy punishment, and even lose the right to fly particular air routes, if they could not fulfill their contract commitments to passengers and shoulder their responsibility for flight delays.
"We will connect carriers' punctuality performance with their right to manage flights. If an airline lags behind the average level in terms of punctuality rate in the first half of this year, then its application for adding flights will not be considered," Li Jun, deputy director of CAAC, said last week.
Other punishable violations included low punctuality rate in the previous quarter, unreasonable changes to boarding times and delaying flights without any remedy measures. The harshest penalty for these violations will be the flight's suspension or even elimination, sources from CAAC said.
So far, China Eastern Airlines has chosen to keep a tight lip on CAAC's decision, while bigger competitors including Air China and China Southern Airlines claim they have not heard about CAAC's decision.
Some local carriers complained, on condition of anonymity, that the reasons for flight delays are so complicated that it is not easy to define responsibility and dish out specific compensation measures.
Carriers should shoulder the responsibility for flight delays triggered by internal reasons. But it is difficult to measure the losses, experts said.
As the industry regulator and flight resources manager, CAAC is without doubt qualified to address the issue and to keep the market in order.
However, since there are no laws or even industrial regulations governing the problem, full implementation of the CAAC direction would be a hard task.
"In mature overseas markets, there are explicit laws and regulations addressing the problem of airlines' not being on time. Passengers thus can launch a law suit if their complaint to a carriers' service department is in vain," Dong Nianqing, professor with the Civil Aviation Management Institute of China, said.
According to Dong, alongside CAAC's direction, there should be powerful laws and regulations issued to better address the issue.
"The move by CAAC shows the industry's service sense is improving. But as a market watchdog which has much more important policy-level responsibilities, I suppose CAAC is not suitable to serve as the third party executor of such an issue.
"The ideal way to address the problem is through legislation," Dong said.
In fact, CAAC started to focus on the issue earlier this year, aiming to push forward the formulation of laws and regulations to safeguard passengers' rights.
Meanwhile, airlines, airports and other air-service enterprises are responsible for making service commitments to passengers and detailing their responsibilities in situations such as flight delays, air-ticket changes and personal injuries during flights.
However, since CAAC's direction on flight delays was issued, there have been no specific compensation measures offered by carriers.
CAAC admitted it can only draft directions and advise, but has no right to interfere in the carriers' business operations.
"The problem is truly very complex. Rather than concerning carriers only, it is a question confronting the overall aviation system, including airports and air traffic management departments. Therefore, it demands joint efforts," Dong said.
Today's Top News
Top China News

Power cuts put many Chinese business in bind




Four U.S. Marines Killed in Iraq




HK publishes guidelines on election




Premier Wen launches battle against AIDS




Classified data missing from US nuke lab




Harsh compensation plan still up in air