China formally reopens embassy in Iraq
(Xinhua)
Updated: 2004-07-10 08:41
China on Friday formally reopened its embassy in Iraq, after more than four months of preparations for this move, a senior Chinese diplomat in Baghdad said.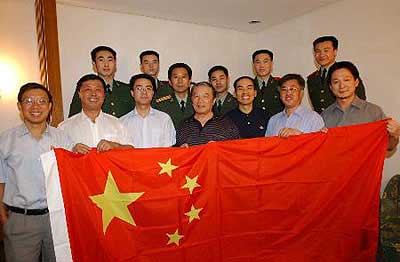 Staff members of Chinese embassy in Iraq pose for a group photo behind China's national flag in Bagdad, June 9, 2004. Sun Bigan, (center) currently head of the Chinese mission team in Baghdad, announced that the Chinese embassy in Iraq formally reopened yesterday. [Xinhua]

Sun Bigan, currently head of the Chinese mission team in Baghdad, told Xinhua that China's decision to reopen its embassy here showed that the Chinese government attaches great importanceto China-Iraq relations.

"The move also showed the support of the Chinese government for the Iraqi interim government," he said, adding that he sees a bright future for the cooperation between the two countries in all aspects.

An Iraqi foreign ministry source said that Iraq will take steps to guarantee safety of the Chinese diplomatic officials, and welcomes Chinese enterprises to participate in Iraq's reconstruction.

Chinese Foreign Minister Li Zhaoxing on Thursday talked by phone with Iraqi Foreign Minister Hoshiar al-Zibari, saying China supports the Iraqi interim government and will further bilateral friendly cooperation in line with mutual respect, mutual benefit and equality.

The Chinese foreign minister also said that China hopes Iraqi's interim government, with the help of the international community, can stabilize its security situation at an early date and push forward its reconstruction in a comprehensive way.

China withdrew its diplomats just days before the breaking out of the US-led war on Iraq last March. During last summer a smallgroup of Chinese diplomats came back to Baghdad only for security situation assessment.

Later on Feb. 16 of this year, a Chinese mission team returned back to Baghdad to make preparations for the reopening of the embassy. During the over four months of their stay they have made wide contacts with the Iraqi and coalition authorities.

On April 11 seven Chinese workers were abducted by armed men in central Iraq, but they were released and handed over to Chinese diplomats here after 25 hours.




Today's Top News
Top China News

Rice reiterates one-China stance




Industry reports slowed growth




Goals set to improve auditing system




Agreement ends rebates for chip makers




Chinese forced labourers win suit in Japan




Governor: Loan control won't be relaxed