Kinky Cameron Diaz video hits web
(Agencies)
Updated: 2004-07-09 11:14
Move over, Paris, there's a new leading lady steaming up the Internet: Cameron Diaz.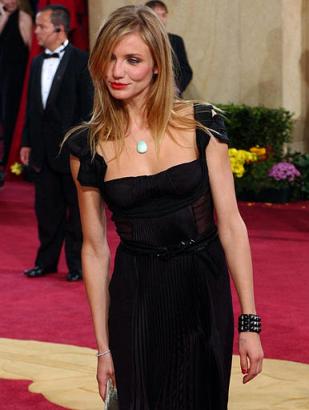 Actress Cameron Diaz arrives for the 75th annual Academy Awards Sunday, March 23, 2003, in Los Angeles. [AP]

Before she was an A-list star of Shrek, There's Something About Mary and Charlie's Angels, Diaz displayed some decidedly un-angelic behavior in a salacious S&M video shot back in 1992. That video, at the center of a contentious, ongoing legal battle between Diaz and the man who filmed it, hit the Web Wednesday and is rapidly becoming the download du jour.

Titled She's No Angel: Cameron Diaz, the 30-minute film shows the then-19 model baring her breasts and getting kinky in a softcore photo session for cameraman John Rutter.

Now 31 and a Tinseltown powerbroker, Diaz had wanted to keep a lid on the footage. She and Rutter have been battling for nearly a year. For his part, Rutter claims Diaz signed off on a valid release at the time it was shot. Hollywood's highest-paid actress, however, says the signature was forged and accuses the shutterbug of trying to blackmail her for $3.3 million in exchange for not releasing the titillating pics.

Too late. The film is available for purchase via download for $39.95 at Scandal-Inc.com and bootlegs are already circulating on file-sharing sites like KaZaA and Grokster.

According to the New York Post, the video features Diaz topless and in fishnets. She and a leather-clad model named Natasha are vamping it up in a bondage scene with a chained man wearing nothing but a loose-fitting loincloth. At one point, the twosome toy with their male "slave," making him wear a black leather bondage mask and pretending to subjugate him.

In another notable moment, Diaz gets down and dirty, prancing around topless while Rutter (doing his best Austin Powers' impersonation) barks orders like, "Attitude!," "Strut it, baby!," "I want you hot and sexy!" and "Cat-like! Cat-like!"

Finally, in the climax, Diaz sprays a can of compressed air on her boobs and giggles: "Whoa! Look at them! Look at how big they got!"

According to some early online reviews, the Diaz display isn't exactly in the same league as Shrek 2. "You've seen better acting in the Paris Hilton video," opines the blog fleshbot.com, noting that Diaz appears in only two-thirds of the video and is only bra-less in one-third. Defamer.com, meanwhile, says "You're better off using a copy of Charlie's Angels as a self-love aid than wasting $40 on the Diaz video."

Shortly after going live with the video, Scandal-Inc.com posted a message on its site saying it's unable to show the trailer due to heavy traffic.

In a press release, the Carribean-based distributor bought the rights to the footage from Rutter sometime last year.

"To the best of my understanding, Rutter had sold the licensing rights to the tape and photos years ago, and Scandal-Inc.com picked it up sometime early last year," says a spokesperson identified only as KB.

"It was a long, drawn-out case against Rutter that ran the gamut from extortion to forgery, but later it was ruled he did in fact have the copyright on the production."

Diaz's camp is disputing that contention. In a statement to the Post, her publicist notes that a Los Angeles judge issued a permanent injunction last November that "prohibits anyone from selling, licensing, syndicating, distributing, publishing, broadcasting, disseminating, displaying or commercially exploiting the photos and video shot by John Rutter in 1992. There are already criminal proceedings pending against Rutter. A cease-and-desist letter has been sent to the Website."

The injunction came after reports surfaced that Rutter had been offered a $5 million for the tape and accompanying photos.

On Thursday, Diaz publicist Brad Cafarelli declined further comment, "in light of the fact that there are ongoing criminal and civil proceedings pending regarding this matter."

Rutter's rep, Storm Jenkins, said the photographer "has had no involvement with the Website that's releasing the video." Jenkins also said that the D.A. is making Rutter a "scapegoat" by pressing forward with criminal charges.

Rutter is due to stand trial July 21 for attempted grand theft, forgery and perjury--all charges relating to his battle with Diaz over the photos and video.

He was originally arrested and charged with attempted extortion, attempted grand theft, perjury and two counts of forgery, but the Los Angeles County D.A. later dropped the extortion counts. Rutter has since filed a $10 million suit against Diaz, claiming fraud and breach of contract.

Ironically, while she's battled to avoid becoming the next Paris or Pam online, Diaz isn't above playing off her sexy bod. She recently signed to star as a Playboy Playmate in 20th Century Fox's upcoming film, X Girls, a comedy about curvaceous babes competing in Mark Burnett's Eco-Challenge.




| | |
| --- | --- |
| | |
| Playboy Swimsuit Calendar for 2005 | |

| | |
| --- | --- |
| | |
| Fashion show in Paris | |

| | |
| --- | --- |
| | |
| My fair ladies! | |
Today's Top News
Top Life News

Taiwan independence never to be tolerated, Rice told




Nations to fight cross-border crimes together




China, US resolve semiconductor dispute




Hostage neck slashed, kidnapper shot dead




40 die in Guangdong heatwave




Foreign firms cash in on China consumers