Guangdong, Shanghai alert to bird flu
(Xinhua)
Updated: 2004-07-09 01:01
No new cases of bird flu have been reported in South China's Guangdong Province since an outbreak earlier this year, allowing daily poultry deliveries to Hong Kong and Macao to continue as usual, a local official said Thursday.
Cai Shujian, an official with the animal husbandry office of the Guangdong Provincial Agricultural Bureau, said no new cases have been reported in Guangdong since February 10.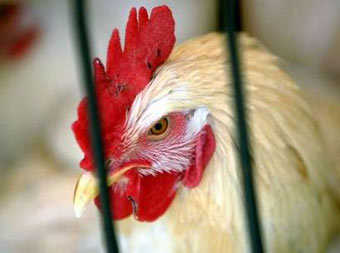 A rooster waits to be sold at a market in Beijing July 8, 2004. China culled more than 20,000 chickens in central Anhui province to isolate a possible outbreak of bird flu, a local official said on Thursday. [Reuters]


However, the China National Bird Flu Reference Laboratory confirmed on Tuesday that the latest death of chickens in East China's Anhui Province was caused by the deadly H5N1 strain of bird flu virus.

The virus was found at a chicken farm of Juchao District, Chaohu, eastern Anhui Province.

Following the outbreak, the provincial government urged the Guangdong Provincial Headquarters for Control of Highly Pathogenic Avian Flu and other relevant departments to step up prevention and treatment efforts.

"At present, there are plenty of vaccines in the province and we will continue to do a good job preventing poultry from bird flu infection," said Cai, who is also in charge of the Guangdong Provincial Headquarters for Control of Highly Pathogenic Avian Flu.

Professor Xin Chao'an from the South China University of Agricultural Sciences, said that because of the hot weather in Guangdong made another outbreak of the bird flu unlikely.

Guangdong Province is not the last one to act.

Shanghai has also drafted measures to prevent a comeback of the avian epidemic.

Jiao Yang, spokeswoman for the municipal government, said the government would place equal emphasis on vaccination and monitoring to prevent the outbreak of the highly pathogenic avian disease. It would also increase checks at highway crossings and borders to prevent the avian flu from entering the city.

"We will not ban trading at the live poultry market that just resumed operation, but we will step up market quarantine and supervision," said Jiao.




Today's Top News
Top China News

Taiwan tops Rice agenda in China




Japanese seabed research roundly decried




Nations to fight cross-border crimes together




Yellow River sewage spill spawns fish kill




China, Japan partner up to rid pollutants




40 die in Guangdong heatwave