Shanghai Metro delay causes revolt
(eastday.com)
Updated: 2004-07-07 09:20
About 200 metro line passengers in Shanghai face the possibility of criminal charges after they refused to get off a train that broke down during rush hour Tuesday morning.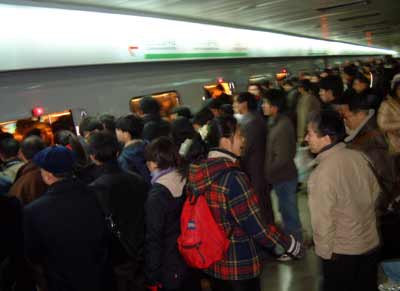 Passengers wait for a train at a metro station in Shanghai. [newsphoto/file]
According to the metro line operator, local police still haven't decided whether or not to punish the passengers, but according to Chinese law they could be fined or taken into custody for up to 15 days for intentionally delaying service along the line.
The train broke down on Rail Transport No. 3, the elevated metro line linking Jiangwan Town with Shanghai South Railway Station, for more than 12 minutes around 8am Tuesday.
Passengers upset by the delay became even angrier when the train's doors were left open despite the hot temperature outside.
The train's engineer and employees from the nearby Dongbaoxing Road Station first tried to fix the train and then tried to persuade commuters to get off and wait for another train.
While most passengers did get off, some 200 refused to leave, according to officials with Shanghai Metro Operation Co Ltd, operator of three of the city's four metro lines.
"We needed to tow the train away to fix the breakdown, but some commuters pulled down the emergency buttons on train doors to prevent it from leaving," said Yin Wei, a manager with Shanghai Metro.
By pressing the emergency buttons, which prevent the train from moving, the passengers delayed traffic on the metro line for about 12 minutes as the train's conductor had to go to each car and reset the buttons.
The angry passengers stayed on the train "for a very long time" after it had been towed to the northern terminal on the line for repairs, according to Yin.
"Under rules on subway operation, passengers should not disrupt the metro service and destroy subway equipment. So police may punish them," said Yin.
Police were called to the terminal, where they finally coaxed the passengers off the train. They also took down information about the angry commuters so they can track them down later if they decide to hand out punishments.
As subway service is often disrupted by breakdowns or suicide attempts, commuters sometimes get quite angry about the delays, especially during rush hours.
"I take the subway as it's fast and punctual. It's the biggest advantage of subway service, " said Yang Ying, a 25-year-old commuter.
Today's Top News
Top China News

Taxes, fees no longer to target farmers




Edwards joins Kerry's bid to unseat Bush




Bird flu case found after 4-month gap




US slaps extra duties on shrimp from China




Wartime survivor recalls childhood without joy




China regrets Koizumi's defiant words