China regrets Koizumi's defiant words
(Xinhua)
Updated: 2004-07-07 01:46
China is dissatisfied about and regrets the defiant words made recently by Japanese Prime Minister Junichiro Koizumi, Chinese Foreign Ministry spokeswoman Zhang Qiyue said Tuesday at a regular press conference.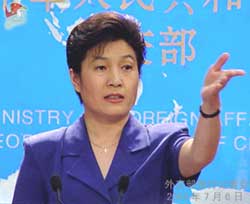 Foreign ministry spokeswoman Zhang Qiyue takes a questions at the regular briefing July 6, 2004. [fmprc.gov.cn]

A journalist said that according to reports, Koizumi pledged in a TV program last Friday that he would continue to visit the Yasukuni Shrine and said it was ridiculous that he could not visit China because of his visit to the Shrine.

Asked to comment on Koizumi's words, Zhang said that since the Yasukuni Shrine honored war criminals whose hands were covered with the blood of people of China and other Asian countries, China firmly opposed visits to the shrine by Japanese leaders.

"A proper attitude toward history constituted the political basis of Sino-Japanese relations and was an important condition for Japan to be trusted by Asia and the international community," Zhang said.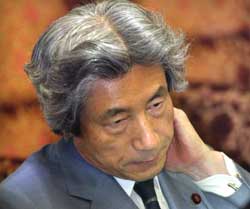 Japanese Prime Minister Junichiro Koizumi speaks at a parliamentary committee regarding issues over Iraq in Tokyo in this June 14, 2004 photo. [Reuters]

The Chinese government hoped the Japanese leaders would keep the promise to reflect on history and avoid activities that caused offense in countries that were victims of Japan's wartime aggression, the spokeswoman said.

The Yasukuni Shrine honors 14 Class-A war criminals from World War II along with the 2.47 million Japanese dead in wars since the mid-19th century.

Koizumi has visited the Shrine every year since he assumed office as Japanese prime minister in 2001.




Today's Top News
Top China News

China regrets Koizumi's defiant words




Taxes, fees no longer to target farmers




Edwards joins Kerry's bid to unseat Bush




Bird flu case found after 4-month gap




US slaps extra duties on shrimp from China




Wartime survivor recalls childhood without joy