Iraq group says US marine hostage moved to 'safety'
(Agencies)
Updated: 2004-07-06 09:29
An Iraqi Islamist group said it had moved an abducted U.S. marine to "safety" on Monday after he pledged to leave the military, raising hopes for the fate of a man who had previously been reported as beheaded.
Qatar-based Al Jazeera television said the announcement came in a statement from the Islamic Response Movement, the same group it reported on June 27 as claiming to have abducted Corporal Wassef Ali Hassoun and threatening to kill him.
Relatives in Lebanon of Lebanese-born Hassoun said the same statement had been faxed to them.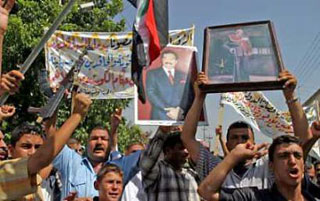 In Mosul, protesters - shown in this photo - denounce the Iraqi tribunal, which set out charges against Saddam Hussein, on July 4, 2004. [Reuters]


Battling militants blamed for kidnappings and bombings, the U.S. military launched an air strike on what it said was an Islamic guerrilla safe house in the Iraqi city of Falluja, killing at least five people. Neighbors said they were members of a family with no connections to extremist groups.

A chilling video tape, obtained by Time Magazine and given to Reuters, showed foreign Muslim militants saying farewell to their loved ones before climbing into vehicles and blowing themselves up in operations across Iraq.

In one attack, a suicide bomber named as Abu Harith al-Dosari climbs into a big fuel truck and points to a electric cord that he will use to detonate a large bomb. Footage then shows him driving to Baghdad's Kathimiya bridge, where the truck explodes into huge balls of fire.

The U.S. military and Iraqi officials have said for months that foreign fighters have played a major role in bombings and shootings, but have produced little real evidence. Kidnappings have also spread fear, helping to destabilize the country.

PLEA FOR MERCY

The Islamic Response Movement did not say where the abducted Hassoun had been taken, only that he had been moved to a "place of safety," Al Jazeera said.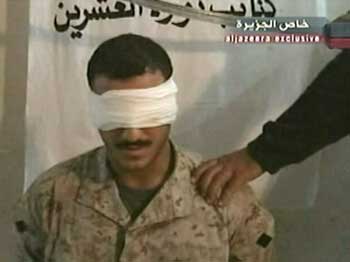 A television image aired by Al Jazeera on June 27, 2004 shows a blindfolded man dressed in camouflage believed to be US Marine Wassef Ali Hassoun sitting in a chair with a hand holding a sword above his head. A militant group said on July 3, 2004, it had beheaded U.S. Marine Wassef Ali Hassoun after kidnapping him in Iraq and was holding another "infidel" hostage. [Reuters]

"At this point we are uncertain of the destiny of our brother, our friend Wassef," family friend and spokesman Tarek Nosseir said in a statement to reporters outside the family's Utah home.

"If he is still in captivity, we remind the captors of the saying of our beloved prophet; 'Be merciful to those on earth. Mercy will descend on you from heaven."'

It was the first statement for days from Hassoun's Utah relatives, who have remained in their home in West Jordan, outside Salt Lake City, since news of the abduction broke.

The family has declined all comment on media reports that Hassoun had deserted the U.S. military or that he had been lured away from his base in Iraq after a romance with an Arab woman.

Reports of Hassoun's fate conflicted wildly over the weekend after statements posted on Islamist Web sites attributed to another Islamist group -- the Army of Ansar al-Sunna -- said he had been decapitated, then that he was still alive.

Eight days ago Al Jazeera showed a brief video of a blindfolded man dressed in camouflage sitting in a chair with a hand holding a sword above his head. The U.S. military says Hassoun has been absent from his unit since June 21.

AIRSTRIKE

Hospital sources said at least five people were killed and seven wounded when a U.S. plane fired a missile at a house in Falluja, listing women and children as among the victims. Some local residents said the death toll may have been higher.

Residents dug into rubble in search of more bodies after the attack, which followed a string of air strikes targeting what the U.S. army describes as safe houses used by followers of Abu Musab al-Zarqawi, who Washington accuses of al Qaeda links.

"They talk about terrorists, but these are just families," said a man belonging to an angry crowd of residents who gathered at the lip of a large crater gouged by the blast.

Iraq's interim government has pledged to crack down on militants, but Prime Minister Iyad Allawi canceled a news conference on new security laws at short notice. The government had earlier planned to unveil the legislation on Saturday.

Despite the delays, Foreign Minister Hoshiyar Zebari said the government would soon introduce the security law, reinstate the death penalty and offer a temporary amnesty to insurgents. The death penalty could apply to Saddam Hussein and 11 of his lieutenants if they are convicted by a special tribunal.

An Iraqi civilian was killed and four were wounded in the southern city of Basra when mortar rounds fired by guerrillas at the main government building hit nearby homes instead.

Two Iraqi civilians were killed and four wounded by gunfire outside the southern city of Kerbala when a convoy carrying troops from a U.S.-led multinational force escaped a bomb attack and then opened fire, a hospital official said.

In other violence, guerrillas fired at a U.S. military medical helicopter, wounding the pilot and co-pilot, a military spokesman said, although the aircraft landed safely.

In the northern city of Sulaimaniya, security forces foiled an attempted suicide car bomb attack when security forces shot dead two men driving a car laden with explosives, local television reported.




Today's Top News
Top World News

Taxes, fees no longer to target farmers




Edwards joins Kerry's bid to unseat Bush




Bird flu case found after 4-month gap




US slaps extra duties on shrimp from China




Wartime survivor recalls childhood without joy




China regrets Koizumi's defiant words