Legal 'savior' fighting for his fees
By Yao Ying (China Daily)
Updated: 2004-07-05 08:37
Zhou Litai, a lawyer who represents migrant workers in industrial injury cases, made his name in Shenzhen in 1998 when one of his clients got a record court award in the city.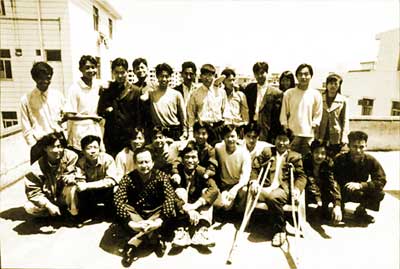 Zhou Litai (front row, in checked shirt) poses in this undated file photo with some of the migrant workers he represents in industrial injury cases. [courtesy of Zhou Litai]
His client, Peng Gangzhong, got 178,000 yuan (US$21,520) - five times more than the settlement a worker previously was able to get for a lost limb in accordance with labour arbitration regulations in this city of South China's Guangdong Province.
However, six years later, Peng's name no longer evokes a sense of pride in the lawyer, who is now based in Southwest China's Chongqing Municipality.
On July 2 Zhou filed a defamation suit against Peng, saying his former client vilified his reputation during an interview with the China Central Television (CCTV) last month. In the interview, Peng described Zhou as "a money-hungry ambulance chaser (who) overcharges his clients."
Zhou countered by saying there is nothing wrong with his legal practice, and actually he has not received a penny from Peng, who ran off with his compensation after the case was won.
According to Zhou, Peng is one of 161 former clients who still owe him legal fees, and the total overdue amounts to 5 million yuan (US$604,590).
In order to recoup some of what's owed him, on February 27 the 48-year-old lawyer brought Liu Chaozheng, the last one on his blacklist, into court.
The court decided Liu should pay 148,000 yuan (US$16,790) in legal fees at the end of March.
Since the worker has refused to pay, Zhou is still waiting for the court to force execution of the judgment.
Before bringing suits against his former clients, Zhou was a high-profile lawyer famous for securing benefits for injured workers and securing their payment from employers, whether domestic companies, foreign investors or local governments.
He made history in Chinese industrial injury litigation in 2001 when his client Liu Tao got a record 1.58 million yuan (US$191,050) as compensation for losing both arms on the job.
Zhou's current wrangling with migrant workers, which contradicts his long-held image as their savior, has therefore attracted attention from legal circles as well as ordinary people.
Contingency fee
Wei Feng, a law professor at Southwest University of Law and Political Science, said due to migrant workers' lack of education and other problems, the time is still not ripe for Zhou to charge clients on a contingency basis.
Since 1996 when Zhou started to accept workplace injury cases in Shenzhen, he has been representing his clients on a contingency basis, which means he does not require any fees up front but will take payment from the client only if and when a settlement or award is won.
Lawyers take a higher risk charging contingency fees compared to other forms of billing such as hourly rate, fixed fee or percentage fee because they get nothing if they lose.
What is ironic about Zhou's situation is that even when he wins, he still takes risks because many of his clients run off without paying.
Zhou said if he had other choices he would not have billed this way. "They (the migrant workers) have lost their ability to work already and were kicked out by their bosses. In many cases they cannot even feed themselves. How can I ask them to pay in advance?" he said.
Not only that, many of the workers he represented - about 200 between 1996 and 2001 - lived in Zhou's apartment in Shenzhen, some for as long as five years until their case was won. Zhou said they had nowhere to go, and they might disappear at any time during legal proceedings.
Fu Sulin, a worker from Anhui Province who lost his right arm in 1998 at a Shenzhen factory, said he lived in Zhou's place from 1998 until he got his 160,000 yuan (US$19,277) award in late 1999. Fu said when he paid Zhou, the latter only took about half of the 30,000 yuan (US$3,614) fee owed to him.
"I paid him, though few of us have done so, because he (Zhou) too has to survive, and if not for him I wouldn't have got so much money," Fu said.
Credibility urged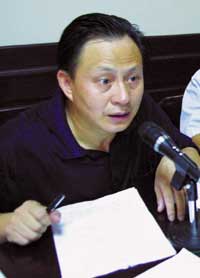 Zhou Litai has made himself a controversial figure as his sui against a former client has broken his long-held image as the "savior" of migrant workers. [newsphoto/file]

Ye Jingyi, a law professor at Peking University and deputy director of the university's Labour and Social Security Law Institute, said although the contingency fee method is relatively new in China, it has become more and more popular, especially for cases in which the size of settlement or award largely depends on the lawyer's performance.

She said the key to its healthy development lies in credibility from both lawyers and clients. Migrant workers' failure to pay will cost lawyers heavy losses, some of whom will stop representing injured workers, which in return, will affect the interest of future workers fighting for compensation.

Wang Jianjun, a law professor at Southwest China's Sichuan University, said it is imperative for migrant workers to improve their legal awareness and education so they know they have obligations to fulfill.

Almost every respondent to a CCTV online survey which solicits opinions on Liu's case said the lack of credibility shown by migrant workers will do great harm to the legal environment.

Is the rate too high?

However, worker Liu and some of Zhou's other clients said one reason they won't pay legal fees is that Zhou charges too much. For each case that is won, Zhou collects a fee of 15 to 30 per cent of the settlement or court award.

Liu said Zhou is a "mean" lawyer who helps injured workers only because there is money to be made. He said he felt the 20 per cent Zhou charged was too much when signing a contract with Zhou last July. But he had no choice, because two lawyers he had previously contacted would not accept his case without partial payment in advance.

However, experts said the rate Zhou charges is not out of line. In China there is no law setting limits on contingency fees. Theoretically, any rate is legal as long as it is set through fair negotiation between the lawyer and the client, as is stipulated on the Interim Measures on Management of Counsel Fee Charged by Lawyers. In reality, the rate of contingency fee varies from 10 to 40 per cent of settlement of court award in most cases in China.

The weaker group

Shanghai-based lawyer Wen Cailin, who specializes in intellectual property rights protection on audio and video products, said Zhou's failure to collect his fees lies not in the percentage he charges, but in the fact his clients are destitute injured workers who are numb to the concept of credibility because they are often unfairly treated in the labour market.

Wen, who has been representing clients on contingency basis for many years, said he has no trouble collecting his fees because his clients are all big companies.

For workers, who have lost partial or complete ability at work, it is very difficult to part with their money because they cannot work as capably as ordinary people.

Take 30-year-old Liu Chaozheng for example. Every penny of the 110,000 yuan (US$13,300) compensation means much to him. He and his six-year-old son have to live exclusively on the money because he has almost lost all his eyesight due to a gas blast in the coal mine where he worked.

For this reason, Sichuan University's Wang said it might be more workable if Zhou lowered his fee so as to reduce his client's burden.

However, Zhou said the rate is justified because he takes very high risks representing the workers. Due to expenses for supporting farmers and overdue fees, Zhou said his law firm now has built up a debt of 1.3 million yuan (US$157,190).

Solutions to dilemma

The burden of migrant workers should not be shifted to lawyers, said lawyer Wen. "Zhou is justified to collect his lawyer's fee, because he is doing a legal business instead of a public cause or charity."

Wen said the government can play a more active role in helping solve the dilemma of lawyers and problems of migrant workers.

Professor Ye agreed with Wen. She said society and the legal circles have much to do in order to better protect the interests of both lawyers and migrant workers.

Ye said the existing legal assistance system, with the aim of providing free legal service for those who cannot afford it, is still very weak due to shortages of funding and personnel.

Legal assistance comes from two major sources. More than 2,000 legal aid centres covering most parts of the country are permanent bodies providing free legal services and consultations. In addition, each of the more than 100,000 lawyers in China is required to handle a set percentage of cases for free every year.

The centres, supported by local government revenue, are often cash-strapped and therefore have to limit their workload by setting very strict qualifications for people to get free legal service. And the meager subsidy a lawyer gets for each free service, 60 yuan (US$7.25) on national average, greatly hampers their incentives to win.

Many of Zhou's clients reportedly tried to seek legal aid before they turned to Zhou, but were turned down.

Last year there were 170,000 cases handled with legal assistance, only a fraction of the 740,000 cases that need help each year.

It is especially so with labour dispute cases. Along with rapid economic growth, the number of workplace injuries has also increased. In Shenzhen alone there are about 10,000 people injured at work each year.

Although China has enacted a series of laws and regulations protecting workers' rights, poorly-educated workers usually have no access to the information. Therefore the need for free legal consultation is great.

In order to solve these problems, the State Council promulgated the Regulations on Legal Assistance last September. Since then, governments at all levels have stepped up efforts to facilitate legal assistance.

The allocation of government funding for legal assistance rose to 152 million yuan (US$18.4 million) in 2003, almost double the figure from the previous year, according to the Ministry of Justice.

And the ministry is now expanding its channels of legal aid fund collection by accepting donations from individuals, enterprises, foreign companies and groups.

Ye said aside from greater financial input, the government should also consider reducing or waiving management fees and taxes on legal aid centres to reduce their economic burden. Same preferential policies can also be granted to lawyers like Zhou on the condition they charge clients at a lower rate.

Reform in the judicial system can also help solve part of the problem. Ye said the American Bar Association is pushing for implementation of a system that orders the defendant who loses the case to shoulder the lawyer's fee for the plaintiff.

If such practice is adopted in China, migrant workers' burden of lawyer's fee will be borne by their wrongful employers.




Today's Top News
Top China News

Experts: Interest rate rise not likely in short term




Farmers' income to jump 5% this year




Legal 'savior' fighting for his fees




Fire destroys Mao's former Wuhan residence




Schools: Aid students seeking jobs




Kim Jong-il wishes to visit Seoul -- report