WWII laborers demand Tokyo's apology
(Xinhua)
Updated: 2004-07-03 14:33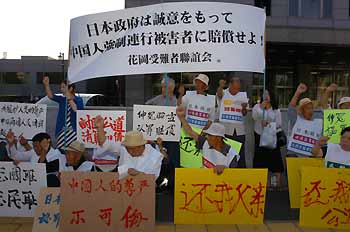 Chinese surviving laborers and family members of the dead submit protest in Tokyo, July 2, 2004, demanding that the Japanese government apologize and compensate for Japan's deadly cruelty during their hard labor days in World War II. [Xinhua]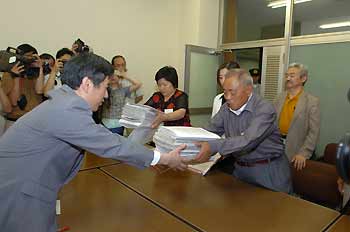 Chinese surviving laborers and family members of the dead submit to Japanese government a petition endorsed by nearly 80,000 Chinese in Tokyo on July 2, demanding that the Japanese government apologize and compensate for Japan's deadly cruelty during their hard labor days in World War II. [Xinhua]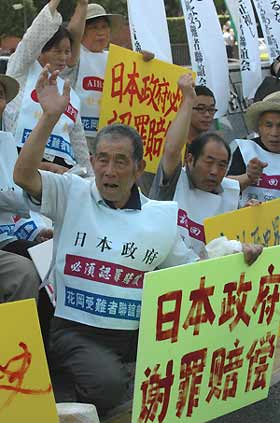 Surviving Chinese laborers stage protest in Japan. [Xinhua]
A group of 41 Chinese surviving laborers and family members of the dead demanded on July 2 that the Japanese government apologize and compensate for Japan's deadly cruelty during their hard labor days in World War II.
In a petition endorsed by nearly 80,000 Chinese, they asked that the Japanese government conduct a thorough investigation of a bloody repression and publish the fact. They also said Japanese textbooks should carry the story truly.
Japan abducted 986 Chinese to a copper mine in northern Akita Prefecture at the end of that war. A total of 418 of them died there from torture, hunger and disease, including more than 130 people in a failing uprising.
The survivors are in their 70s and 80s now. "We were fed like pigs and dogs. After being captured in the escape, we were punished to kneel on a square for three days without food and water, and treated with sharpened bamboo poles and gunstocks. More than 100 people died during those days," said 83-year-old Li Tiechui at a press conference.
"Nearly half of the laborers in the mine died. It really was an atrocity," Yang Lianzhu, 70, sobbed out. His father was among the dead.
After five years of lawsuit, 11 Chinese plaintiffs and the prosecuted Kajima Corp. that ran the mine reached a conciliatory agreement in 2000. The company apologized and offered 500 million yen in compensation for the 986 people. But the Japanese government has been refusing their claims.
"The Japanese government should treat the history appropriately. It is not a war for liberty as it describes. We are determined to fight to the end," said Yang.
"What the Japanese government has been doing over years was to erase the memory on that war and to obliterate the history. It must tell the truth and say sorry," said upper house member MasakoOowaki.
"If the Japanese government goes on with its attitude, we would bring up lawsuit," said Lin Boyao, an overseas Chinese who has been championing the campaign.
Today's Top News
Top China News

Stress kills workaholic academics at young age




Efforts urged to curb floods, drought




China opposes foreign interference in HK




Ministry battles telecom price wars





Sino-US trade relations hit rough patch




Migrant workers given classes on AIDS