US job losses not trade related -- Barshefsky
By Zhang Jin (China Daily)
Updated: 2004-07-02 09:33
China should not be blamed for the United State's job losses, according to former US trade representative Charlene Barshefsky.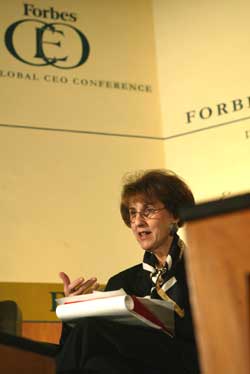 Former US trade representative Charlene Barshefsky speaks at the Forbes Global CEO Conference in Shanghai in this September 17, 2003 file photo. [newsphoto]

"Most of the job losses (in the US) are not trade related," she said, "but (US) people blame it on trade."

China is the biggest victim of this notion, as it has replaced Japan as the US' biggest trade deficit country with most of its exports from manufacturing sectors.

In the US, people see too many made-in-China goods in their daily life: baby clothes, handset phones and tablecloths. They ask why these products cannot be made in the US, Barsfesky said.

This unfortunately subjects China to strong criticism and has caused it to be dubbed as a major factor causing sluggish employment in the US.

The underperforming US economy in the recent past, although it has warmed up recently, has underlined people's anxiety, she said.

Commenting on current Sino-US economic ties, Barshefsky said she believes trade friction between China and the US will increase before it decreases.

Bilateral trade relations are becoming somewhat politicized as the US presidential election is drawing near, she agreed.

The Bush administration is pressing Beijing hard to ease domestic complaints about job losses and the trade deficit with China.

The US wants China to revalue its currency, or yuan, to rectify the trade deficit, while China is pressing its exchange regime reform step by step, and holds that US controls on exports of high-tech products to China is the cause of the widening deficit.

China's imports from the US jumped a year-on-year 41.5 per cent to US$15.7 billion from January to April, 7.4 percentage points higher than exports increased during the same period, Chinese data showed.

The trade representative under the Clinton administration set a bottom line for trade friction between China and the US, saying it is natural for the two countries to encounter so many disagreements and disputes, as "the trade relation is so huge."

"The US also has a number of trade frictions with major trading partners like Canada and the EU," Barshefsky said.

Barshefsky believes China generally does well in honouring its World Trade Organization (WTO) commitments.

"China has implemented a number of commitments," she said. "Its openness to foreign investment and interest is vastly improved."

And she added that she wants the country to further implement its pledges on agriculture, intellectual property rights protection and service sectors.

When asked if China deserves market economy status (MES), Barshefsky said China does well in "many of the factors" among a variety of factors that the European Union and the US are looking at.

Since the world's current fourth largest trading nation joined the world trade body in late 2001, she said, "China is moving in the direction of the WTO goals. China is moving to somewhat transparency... China is making progress in reforming its State-owned enterprises."

Beijing is striving to attain market economy status to reduce the exposure of its industries to unfair treatment in anti-dumping cases.

The nation's firms are in a disadvantageous position in handling such cases for its far-reaching concession that other WTO members can regard it as a non-market economy until 2016.

Barshefsky agreed that China is treated more harshly in dumping cases without MES, which has generated great losses for the country's industries and companies.

However, she cautioned that the country will also face more pressure, after it gets MES from the US and EU.

"The benefit gained from MES will be offset by the losses caused by anti-subsidy suits launched by other WTO members," she said.

Under the current status, other countries don't file anti-subsidy cases against China, she said.

Barshefsky is now a senior international partner of Wilmer Cutler Pickering LLP. She served as the trade representative from 1997 to 2001, representing the US in talks with China on the WTO entry.




Today's Top News
Top China News

Officials punished for SARS virus leak




Hong Kong looks to bright future




Saddam scoffs at charges of war crimes




US job losses not trade related -- Barshefsky




Jump in water prices stayed




New vehicle emission standards formulated