Saddam appears as Iraqis cheer, curse
(Agencies)
Updated: 2004-07-02 08:58

Iraqis cheered, cursed and watched as deposed Iraqi leader Saddam Hussein made a defiant first court appearance on charges of crimes against humanity, while at least 17 people died in violence across the country.

With the world's eyes focused on the courtroom drama involving Saddam and 11 top lieutenants, US forces killed at least seven and wounded 17 in a strike on a suspected safehouse for insurgents threatening the security of Iraq's fledgling interim government.

Eight more people died, including a senior finance ministry official, in blasts and attacks around the country.

In court, the man who ruled Iraq with an iron fist for 24 years defended his invasion of Kuwait and refused to sign legal papers as he made his first appearance before the cameras since his capture in December.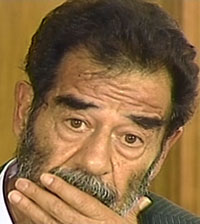 A video grab shows Iraq's deposed leader Saddam Hussein appearing before an Iraqi tribunal in Iraq July 1, 2004. Downcast but defiant, Saddam refused to recognise its authority and said the "real criminal" was U.S. President George W. Bush. [Reuters]

"Bush is a villain, all of this is theater. It is for his re-election," he said, referring to US President George W. Bush, whose forces led last year's invasion of Iraq.

"I am the president of Iraq and I am an Iraqi."

He was charged with seven crimes, including the massacre of Kurds and Shiite Muslims, and the 1990 invasion of Kuwait.

As the charges were read, Saddam defended his invasion of Kuwait, calling Kuwaitis "dogs" and receiving a sharp rebuke from the judge.

The proceedings came three days after the US-led coalition handed over sovereignty to Iraq's interim government.

The ex-president and 11 senior members of his regime, who also appeared in front of the Iraqi Special Tribunal, have been handed over to Iraqi legal custody but remain guarded by US-led multinational forces.

Thursday's hearings began what is likely to be a protracted process with formal indictments against the 12 not expected for months.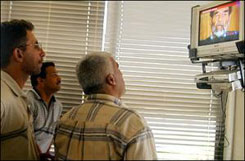 Iraqis watch Saddam Hussein on television as he faces murder charges before an Iraqi court in Baghdad Thursday July 1,2004. [AFP]

Justice Minister Malek Dohan al-Hassan said Saddam would be condemned to death if found guilty. The death sentence -- suspended by the US-led coalition -- was restored after Monday's handover to the interim government.

Reaction to Saddam's appearance was mixed across Iraq.

In a restaurant in Saddam's hometown of Tikrit, 180 kilometers north of Baghdad, 40-year-old employee Abu Awad wept when he saw the television images of Saddam's hearing before a much younger judge.

"I would rather have died before seeing Saddam in such a position," Awad said.

In an old Baghdad cafe, customers shook their heads at the man who once inspired fear with his fearsome security services and personality cult.

"He has changed. He's lost weight. He looks tired. He has the air of a loser," said Kheys Abdel Jabbar.

In northern Halabja, where Saddam's regime killed 5,000 Kurds with sarin and mustard gas in 1988, there were cries for revenge.

"It will not serve us to judge Saddam Hussein in Baghdad. We want to judge him in front of the victims of the atrocities," said Khadija Mohammad Amra, 61, who lost six children during the attack ordered by Ali Hassan al-Majid, Saddam's first cousin, known as "Chemical Ali" for his role in the Halabja attack and who also appeared in court Thursday.

In Washington, Bush watched Saddam's appearance and expressed his pleasure, a spokesman said.

"The president is pleased that Saddam Hussein and his regime leaders are going to be brought to justice by the Iraqi people in an Iraqi court for the atrocities his regime committed," spokesman Scott McClellan said.

Kuwait's information minister slammed Saddam as a "war criminal.

"We demand that he face the maximum punishment, which is death for his crimes," Mohammed Abulhassan said in Kuwait City.

Meanwhile, a senior US military official said the overnight air strike on a suspected hideout of al-Qaeda operative Abu Mussab al-Zarqawi's network in Fallujah and a subsequent shootout killed between 10 and 15 people, although hospital officials said seven died.

US-led military forces have carried out several attacks against the Jordanian Islamist in Fallujah, 50 kilometers (30 miles) west of Baghdad, a hotbed of anti-American resistance.

US-led forces have blamed Zarqawi for at least 30 attacks in Iraq, including March 2 suicide bombings in Karbala and Baghdad that killed some 170 people.

Zarqawi heads his own militant faction named Tawhid wa al-Jihad (Unification and Holy War) which has claimed responsibility for two huge car bombings in Iraq last month and the beheading of a South Korean hostage.

Meanwhile, Ihsan Karim, a controller at the finance ministry, was seriously wounded while his driver and one bodyguard were killed in a roadside bombing in Baghdad, hospital sources said.

Karim later died from his wounds.

And two more Iraqis were killed and a woman lost a leg in another roadside blast, this time aimed at a US military convoy in the city center, police said.

In northern Iraq, one soldier from the multinational force was killed and two wounded as a blast hit a convoy near the city of Mosul, a military statement said, without giving their nationality.

Also in Mosul, 370 kilometres (230 miles) north of Baghdad, one civilian was killed and four policemen wounded in a rocket attack on a local chamber of commerce building, police said.

Separately, a US marine was killed by insurgents in Al-Anbar province, which includes Fallujah, but a statement from the US military gave no precise location.

US Defense Secretary Donald Rumsfeld meanwhile said in a radio interview that Polish troops recently discovered more than a dozen warheads containing mustard or sarin gas in Iraq.

"Now these are weapons that we always knew Saddam Hussein had that he had not declared, and they have tested them," he told San Diego, California, radio station KOGO in the interview aired Wednesday.

Rumsfeld said he had not seen the weapons or the results of the tests, but noted that the Poles believed they "in fact were undeclared chemical weapons -- sarin and mustard gas -- quite lethal."

The International Monetary Fund said it will formally recognize the interim Iraqi government within days, allowing financial assistance to flow once Baghdad pays its IMF debt.

Fund officials were speaking to member countries before making an official announcement in the "very near future," IMF spokesman Thomas Dawson said

The World Bank, which is owed 100 million dollars by Iraq, said it had recognized the interim government on Tuesday.




Today's Top News
Top World News

Officials punished for SARS virus leak




Hong Kong looks to bright future




Saddam scoffs at charges of war crimes




US job losses not trade related -- Barshefsky




Jump in water prices stayed




New vehicle emission standards formulated